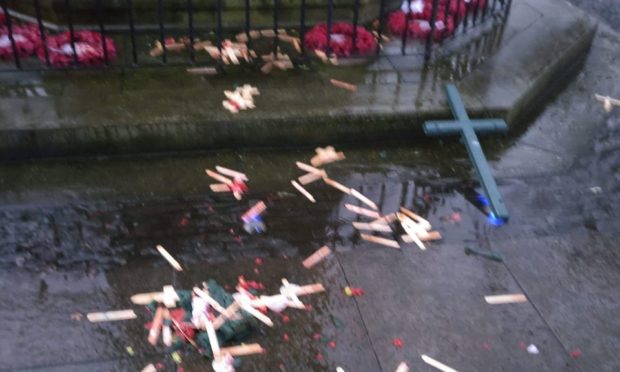 A community has been left "gobsmacked" after children were seen wrecking remembrance crosses at a war memorial on Sunday.
Two boys, believed to be aged around 11 or 12, were spotted smashing the wooden crosses which had been laid by members of the public at a ceremony in Methil just four weeks ago.
Those that were not destroyed were strewn over the path outside Wellesley Parish Church before the youngsters were confronted and ran off.
The same youths are believed to have been responsible for destroying Christmas decorations at a local takeaway around 40 minutes later.
One Buckhaven woman, whose ancestor is named on the memorial, reported them to the police after witnessing the "disrespectful" act.
She said: "For a lot of families, it's the nearest thing they've got to a grave for their loved ones so for kids to come along and do that is so disrespectful.
"It's as bad as going to a cemetery and desecrating a grave."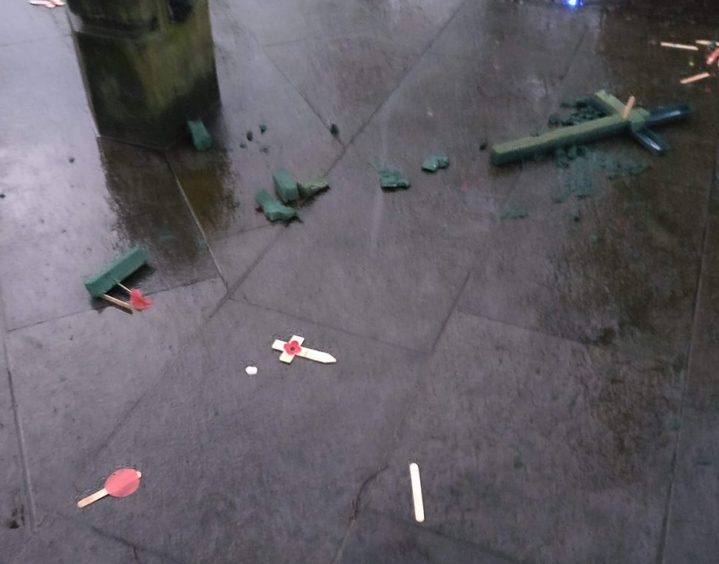 The woman said three of the damaged crosses had been laid by her and her family in memory of her great-granddad.
"I shouted at them and they just bolted," she said.
"I've since heard one of the boys was taken to the police station by his step-dad and his family is mortified.
"I just hope this leads to a bit more awareness about what war memorials are for and how they should be respected."
Labour councillor Ryan Smart said the boys' actions beggared belief.
"They have done something extremely silly, insensitive and disrespectful to the local community," he said.
"I'm absolutely gobsmacked and the whole community is gobsmacked that it's happened."
Mr Smart insisted the incident was not representative of the community as a whole.
"Local schools have done a lot in showing young people the importance of remembrance Sunday and the crosses were made by pupils of Aberhill Primary," he said.
"On the day itself, young people's groups including the scouts, guides and the sea cadets took part in the event and others rose to the occasion through a remembrance event at Levenmouth Academy.
"It's deeply upsetting to me and to the community that something like this has happened."