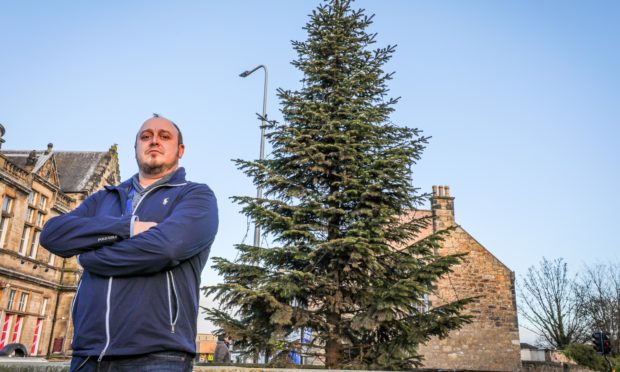 Signs advertising mental health support groups could soon be  erected at known suicide spots in Dunfermline, after the idea was given cross-party backing by councillors.
Conservative member Gavin Ellis had called for signs offering support to those at their lowest ebb to be erected at known spots in the hope they will prevent tragedy.
The signs would ask questions such as "have you told a friend?" and offer contact details for local and national support services.
The move follows a spate of incidents of people taking their own lives in west Fife in the last year, and has been welcomed by a local mental health support group Andy's Man Club, who said there was evidence the approach did make a difference.
Alex McClintock, who runs groups in Dunfermline and elsewhere in Scotland, said a similar approach had been taken  in Perth.
"There are generic wellbeing signs and leaflets and people have started taking them and getting in touch," he said.
"It's something we need to start looking at across the whole country.
"There's a big Andy's Man Club sign at a bridge in Halifax and the group there have noticed a huge uptake in people joining as a result."
Mr Ellis said he was pleased his colleagues on Dunfermline area committee had backed his motion calling for action.
"Not everyone is comfortable calling national helplines and having the ability to provide information about local groups, such as the excellent Andy's Man Club, SAHMS, Support in Mind Scotland and the Samaritans on Townhill Road, will allow more options for residents," he said.
"I am grateful that my fellow councillors joined me in working through this."
The motion will also see a report brought to the committee on the range of support on offer to those in the area who are struggling with their mental health.
Mr Ellis said: "We've got many great resources in Fife for those needing help.
"Recent work has been done to highlight the issues but so much more could be done.
"I am one of those people who find it easier to talk face to face, so giving me a phone number to call wouldn't be helpful.
"But highlighting when there is a group with a time and place I could go to, would really help people with similar issues."
The motion was seconded by SNP Fay Sinclair, who said: "While I don't disagree with any intervention, it is important this it is led by professionals who understand this is a delicate subject."
Scottish Government figures, published last year, showed 381 people took their own lives in Fife between 2011 and 2017.
In August, police in Fife said they were dealing with suicides almost every day.