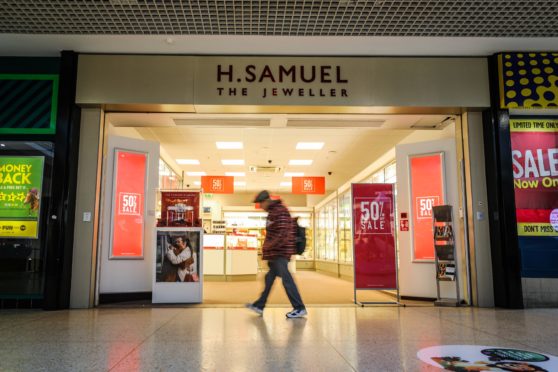 Fears have been raised a fixture of a Fife town centre for many years will to disappear in a matter of weeks prompting concerns about the future of stores elsewhere in the region.
The Courier understands staff at the H Samuel jewellers in Glenrothes' Kingdom Centre have been told the shop will close in early February, with the loss of five jobs.
H Samuel, which is part of the Signet Jewellers group of companies, has so far refused to comment on the store's closure and management of the Kingdom Shopping Centre are still awaiting official confirmation from the company.
However, the news would not be a huge surprise as Signet's recent Path to Brilliance plan highlighted the group's intention to close unprofitable stores and increase e-commerce sales.
A source told The Courier the store is anticipated to close on February 1 and that all five members of staff will be made redundant.
It is understood Fife's remaining stores in Kirkcaldy and Dunfermline are to remain open for the time being, although the source suggested the current plan is to "run them down" over the next year to see out their respective leases.
The news comes just weeks before Dundee's H Samuel branch is due to close, despite being a popular spot for generations of local families.
The site in Reform Street has been there for 120 years and is also well-known for its iconic clock, which is branded with the jewellers' logo.
David Carson, Kingdom Centre manager, said management were trying to find out what the situation is and so far remained "in the dark" about the company's plans.
H Samuel has closed 13 stores in total since February 2018 and now has fewer than 290 branches across the UK.
The Signet group, which includes the likes of Ernest Jones and saw like-for-like sales in the UK fall by 5.2% year-on-year, said it expects to dispose of around 150 outlets in the current financial year.
The retailer said average transaction value and the volume of transactions in the UK decreased by 1.4% and 4.3% respectively, reflecting the country's "difficult operating environment".
The parent company failed to respond to repeated requests for comment from The Courier yesterday, while a staff member at the Glenrothes branch declined to make any comment on the situation.