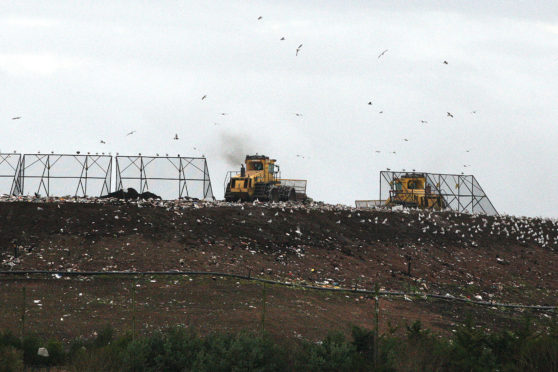 Scotland's environmental watchdog is to serve an enforcement notice on the operators of a smelly Fife landfill site.
The Scottish Environment Protection Agency (Sepa) met Fife Resource Solutions, who operate Lower Melville Wood Landfill Site for Fife Council, last week to discuss the odour, which residents say has plagued the area for nearly three decades.
Fife Resource Solutions has drawn up a plan to cap the landfill cell causing the smell.
Sepa has warned the company an enforcement notice will be issued to ensure the cell is capped within a set timescale.
A Sepa spokeswoman said: "Sepa has already served the operators of the Lower Melville Wood Landfill Site with warning letters, and Sepa representatives met with the company last week to outline the further areas of improvement required.
"Our staff have made it clear that action must be taken as quickly as possible and the site has been informed that an enforcement notice will be served shortly detailing the work that must to be carried out to reduce the impact of odours from the site on the local community. This will include the date by which this work must be carried out.
"In addition to responding to complaints Sepa officers will continue proactive odour assessments around the site."
North East Fife MP Wendy Chamberlain called for the site to be closed down until the issue was resolved.
Fellow Liberal Democrat Willie Rennie, the area's MSP, has already stated the smell is so severe temporary closure should be contemplated.
Mrs Chamberlain said: "Local residents have been dealing with this for too long already to be asked to deal with it until Fife Resource Solutions and the local council can source and resolve the issue.
"Even in the short time since I was elected last month, residents have raised concerns with me about the smell coming from the landfill site.
"The strength and spread of the smell is now having such a negative impact on local residents that it is surely time to consider closing the site until the issue can be resolved."
Fife Resource Solutions told a public meeting in December the smell was caused by biodegradable waste in the active part of the dump, which is almost full with two years' worth of rubbish.
It has already tried to quell the smell but was given another warning by environment agency Sepa for a breach of its licence conditions in October.
Robin Baird, chief operating officer of Fife Resource Solutions, said: "We want to work with the communities involved and have offered to further meet with local people and businesses monthly.
"We work to the highest standard and are currently accelerating work on capping the present site, and installing a new gas well to further reduce the odours.
"Sepa is the environmental regulator of this site and is reviewing our improvement plan. Once Sepa has approved the plan we will publish it."