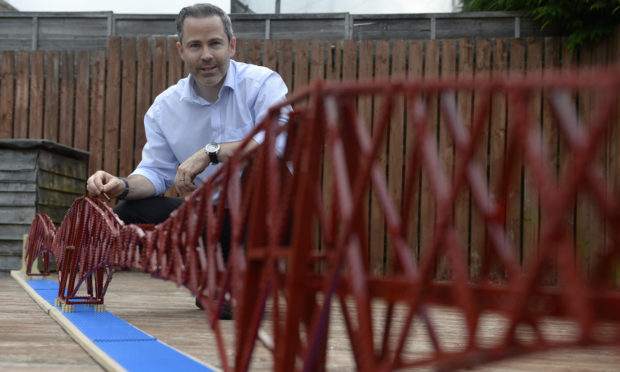 A civil engineer's bid to persuade Lego to create an official set of the Forth Bridge has received some top level backing.
Michael Dineen, who last year spent four months painstakingly recreating the World Heritage site in plastic form, has the support of a descendent of Victorian engineer Sir William Arrol, whose company built the iconic rail bridge.
Arrol's great-grand niece has thrown her weight behind the online campaign to get the design made into a set, with a comment on the Lego Ideas website.
Calling herself Tricky1, she said: "This bridge was built by my great-grand uncle, an extraordinary Victorian engineer called William Arrol.
"It is now an official Unesco World Heritage site and it would be fantastic to commemorate it in this way."
Michael, 41, also has the backing of  the Forth Bridge operators who retweeted his plea for the public to vote for his project, while Transport Minister Michael Matheson has also given his endorsement.
The SNP MSP tweeted: "What a great idea. Let's get behind Michael's campaign to get 10,000 votes and make the Forth Bridge Scotland's first Lego set."
Michael, who spent two years living in South Queensferry in the shadow of the 1.4-mile-long bridge, needs 10,000 online votes before Lego will consider his design as a Lego Ideas set and he has 428 days to garner the support needed.
He is delighted that people are getting behind his campaign.
Want to see Scotland's first official Lego set for sale around the world? If I can get 10,000 to "support" my Forth Bridge Lego IDEA then it could become a reality! Please help make this happen with a retweet @Scotland !!https://t.co/IZL1YAHR28

— Michael Dineen (@MiniFigScotland) January 16, 2020
"It's now been six months and I have a little over 2,000 supporters which is absolutely amazing," he said.
"I'm blown away by how well received the model has been and the positive messages of support I've received, especially from the great-grand niece of Sir William Arrol.
"With just over a year left I would love to reach the target of 10,000 and would encourage readers to vote."
Michael used around 3,000 bricks and a vast degree of trial and error to build his 15ft-long model, which stands almost a foot tall.
He used official Lego pieces but had to paint them the russet colour of the Forth Bridge himself.
If taken on as a Lego set, each box would contain one main tower, both sides of the balanced cantilever, two halves of the suspended section, the deck and one small end tower.
Lego has given the design its backing, saying: "Best of luck as you continue to rally support for your project."
People can vote for Michael's design online at ideas.lego.com/projects