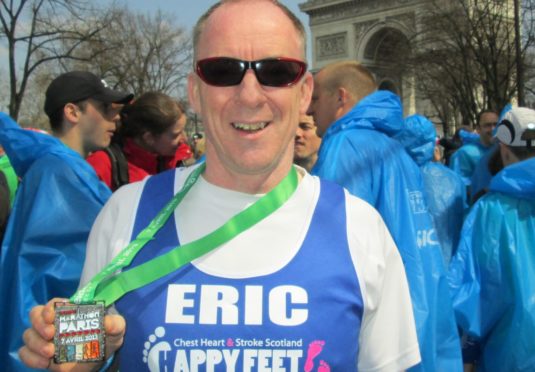 A retired Fife teacher who suffered a major stroke almost 14 years ago is preparing to embark on three huge running challenges later this year.
Eric Thomson, who is a well-known face as former principal teacher of biology at Bell Baxter High, is preparing to take part in the Benidorm half marathon next month, the Edinburgh Marathon in May, and the Great North Run in September, in aid of Macmillan Cancer Support.
Mr Thomson, was 43 in January, 2006 and had been halfway through a weekly game of football at Elmwood College in Cupar when he realised something was wrong.
He said: "I remember feeling very dizzy and my vision going; then I collapsed nowhere near the ball.
"My team had six players to the other team's five, so I actually said to the boys as I was lying there that it makes the game a bit fairer."
Having suffered a major stroke, Mr Thomson had another after reaching Dundee's Ninewels Hospital, before being wheeled from accident and emergency into a resuscitation room where he was stabilised by medics.
"I remember waking up the next day and thinking 'I'm alive'.
"It was then I discovered I had what they call a dissection of the vertebral artery going up my neck. It had burst and a blood clot had surged up into my brain.
"Had that clot gone down the way into my heart and lungs, I would have been dead."
Unable to walk or talk at the time, it took Mr Thomson six months to fight back to something near normality with the support of his wife Lesley and daughters Katie and Julia.
While the damage to his memory and co-ordination will remain a permanent legacy, Mr Thomson is now fitter than he has ever been, having taken up running 18 months into his rehabilitation.
"I'd never really run before, but I remember going to dinner with my wife, Lesley, one night and telling her that I was thinking about doing a half marathon.
"She said , 'you must be absolutely mad' but since then I've never looked back, even if it has been a pretty steep learning curve.
"For a while afterwards, I was never quite sure when I went to sleep at night if I'd wake up the next day and at the back of my mind, there is still the thought that I might wake in hospital again.
"But although I'd lie awake wondering if I was doing the right thing, I now just take each day as it comes, because it's scary to think what could have happened."
To date, Mr Thomson has raised more than £8,000 for the Stroke Association but has decided to take on his triple running challenge in 2020 for another charity close to his heart.
If you want like to donate to Eric's triple running challenge, just visit his web site at www.justgiving.com/fundraising/Eric-Thomson3