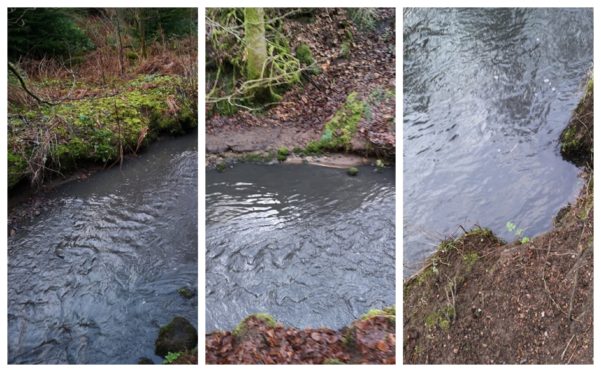 Visitors to a popular public park in Fife have been urged to avoid contact with the water amid fears of a sewage spill.
Scottish Water is investigating reports of contamination to the Balbirnie Burn, which runs through the picturesque Balbirnie Park in Markinch.
The company said it was dealing with a suspected "sewage-related" incident.
Visitors are being advised to not take anything from the water and to see a doctor if they feel unwell.
The park, which separates Glenrothes from Markinch, features a network of paths that follow the valley of the Back Burn through woodland in the Balbirnie estate.
Safety fears have been heightened in recent days after dog walkers reported a section of the river, near the wildlife pond, appeared to have been contaminated with a mystery substance.
Passers-by said the water was a black or grey colour with a highly noticeable chemical smell.
The Scottish Environment Protection Agency (SEPA) has launched an investigation.
It is understood initial tests indicated a sewage leak may be the cause, prompting SEPA to notify Scottish Water.
Members of the public have been advised to keep children and pets away from the area until the river is deemed safe.
A spokesperson for SEPA said: "SEPA received a report about a water pollution incident in Markinch.
"This was reported to Scottish Water, who have confirmed they will resolve the issue."
The spokesperson said the agency took all reports of pollution seriously.
"We encourage members of the public to report pollution and accept photos and videos they have captured, so our officers can investigate.
"Potential pollution incidents can be reported to SEPA by contacting our 24-hour Pollution Hotline on 0800 807060."
Fife Council's public protection team has also been involved in the probe.
The water course is connected to surrounding burns such as the Back Burn, Markinch Burn and Kennoway Burn, and runs into the River Leven further east.
Visitors are advised to avoid contact with the river water in the affected area and not to remove anything from the affected section of the burn.
Anyone who becomes unwell after visiting the area, particularly with symptoms such as sickness, diarrhoea, stomach cramps or fever, should seek advice from their GP.