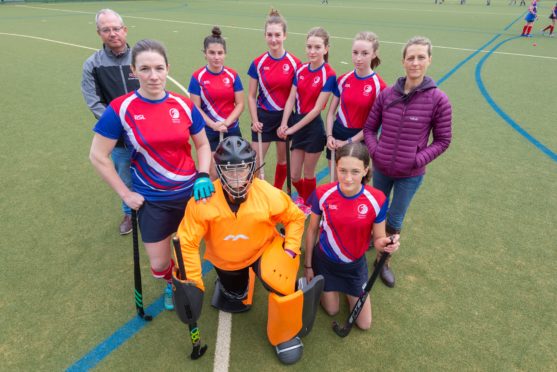 A review of pitch provision at the new Madras College has been ruled out amid anger that those to be installed are unsuitable for hockey above S3 level.
A motion presented to a Fife Council committee calling for examination of the withdrawal from plans of a 2G artificial pitch, was defeated.
Scottish Hockey has backed local players calling for the council to reverse its decision to install two 3G pitches, which have longer artificial grass, instead of one 3G pitch and one 2G pitch.
Councillor Tim Brett's bid for a review by the executive director of education was outvoted at the north east Fife area committee.
St Andrews SNP councillor Anne Verner, who led the challenge to his move, said afterwards: "I was delighted that common sense prevailed, the motion was rejected and the committee agreed to support the decision already agreed and approved for the supply of two 3G sports pitches at the new Madras.
"The education committee and the rector have assured me that the proposed facilities, which include a written contract with the university, fully meet the educational and community needs."
Appealing for a review, Liberal Democrat leader on the council Mr Brett stressed the new school was a community use facility and that there were 13 university and club hockey teams and many school players sharing one 2G pitch at St Andrews University's sports centre.
He said: "There are currently nearly 400 individuals registered to play hockey from age seven to 75. One 2G hockey pitch cannot meet that demand.
"There is a strong argument for an additional 2G pitch, principally for the use of the school."
He was backed by St Andrews councillor and fellow Liberal Democrat, Jane Anne Liston, who said she hoped hockey in the town would not be allowed to "wither and die on the vine".
Mrs Verner, however, said the school rector had offered assurance two 3G pitches would offer the best all-weather sports provision and he should be trusted to act in the best interests of the school.
Madras FP Hockey Club has been pivotal in calls for a 2G pitch at the new school at Langlands, stating young players are having to travel as far afield as Dundee and Perth for home matches due to a shortage of pitch time in St Andrews.
Scottish Hockey stepped into the row, stating the failure to provide a 2G pitch as originally proposed would have a negative impact on its ability to expand the sport in the area.
The 3G pitches are being created at a cost of £1.4 million at the under-construction school, which is due to open next summer.