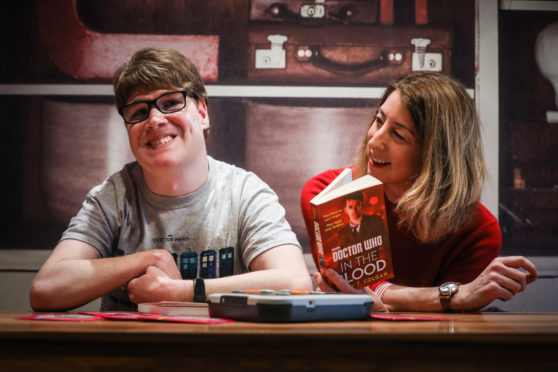 Fife's biggest Doctor Who fan has been given a starring role in a new audio book featuring the nation's favourite Time Lord.
Matthew Nicholson was over the moon when he was asked to record the dedication for the audio version of Jenny T Colgan's In The Blood last week.
The 25-year-old from Aberdour, who has cerebral palsy and sight problems, had pushed the RNIB to release the talking book after discovering it was the only story from the David Tennant era not to be transcribed into audio or braille.
Friday's recording at the charity's Glasgow transcription studio marked Matthew's second appearance in the Doctor Who universe.
He is already immortalised in The Christmas Invasion, also written by Jenny, who has novelised 11 BBC episodes.
She decided to include him after he approached her at Aberdour Festival and mentioned a lack of people with disabilities in books.
"It's nice that Matthew did point out to me that, even in a show like Doctor Who that's so inclusive, they don't have a lot of wheelchair-based people," said Jenny.
"The Christmas Invasion was David Tennant's first post-regeneration episode.
"Matthew is now officially cannon, which means he is an official part of the Doctor Who universe.
"He's the first person to speak in the book, on page five, and I heard from (Doctor Who writer and producer) Russell T Davis after it came out. He said he loved it."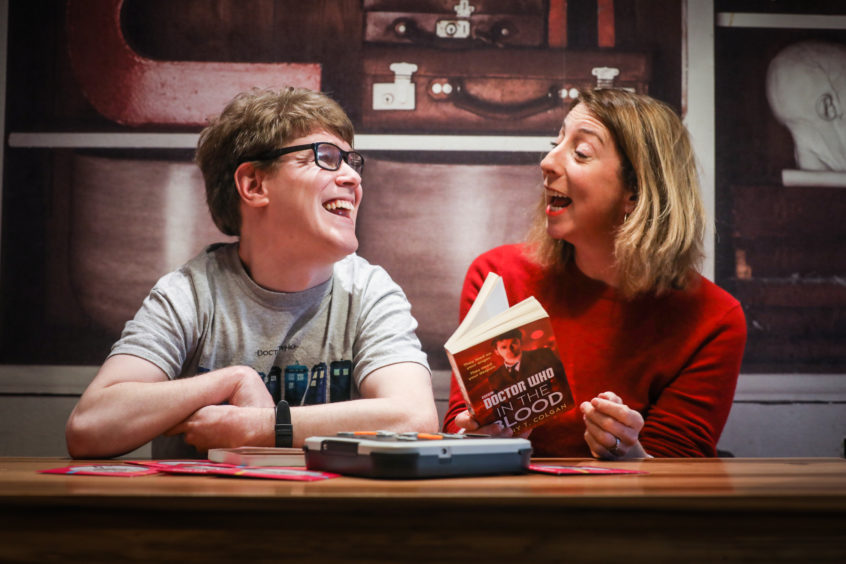 Jenny said the latest talking book would never have happened had it not been for Matthew's tenacity.
"I love what the RNIB do and I have family that benefit from it," she said.
Matthew has been a fan of the series since it was relaunched in 2005, and in 2017 made a visit to the Doctor Who Experience in Cardiff, a popular exhibition that closed last year.
"That was the highlight of my life," he said.
Recording the audio for In The Blood and appearing in The Christmas Invasion come a close second, however, and he said he was delighted to be involved.
Asked if he featured as a goodie or a baddie in The Christmas Invasion, he said: "I'm a goodie. I gave it to one of my friends for Christmas and after she read it she said, 'I can absolutely see you running people over!'".
Thirteen actors have played The Doctor since the series launched in 1963 and Matthew is emphatic about his favourite.
"David Tennant is the best doctor," he said.
The RNIB Talking Books library is the largest in Europe with over 30,000 audio titles lent out free of charge to people who are blind or partially-sighted.
Matthew said said they had changed his life by giving him the chance to read independently.
In his dedication he said: "Huge thanks to Jenny and all at RNIB who make talking books happen."