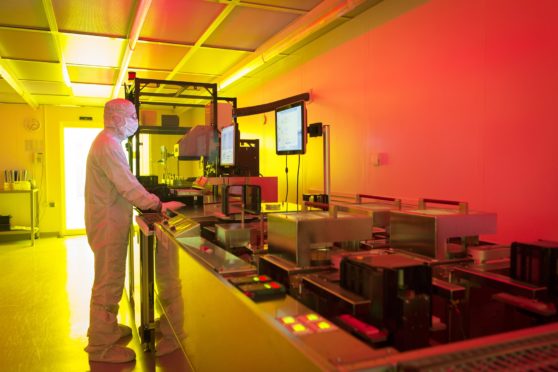 A Fife company has found itself at the forefront of global efforts to curb the spread of coronavirus after being inundated with requests for its products.
Glenrothes-based semi conductor supplier Semefab has received enquiries from four customers in China for a 2.5 million non-contact temperature measuring chips in the space of just 10 days.
The firm's thermopile sensor chips are used in non-contact ear thermometers and with demand increasing in the hardest-hit areas such as China, medics have been clamouring for technology that will minimise the potential for the virus spreading.
Allan James, managing director at Semefab, which is headquartered in Glenrothes' Eastfield Industrial Estate, said manufacturing firms based in China were struggling to cope.
"Semefab has been supplying chips into the China market for CCTV cameras and Passive Infra Red (PIR) Sensors for energy saving security lighting for more than 15 years and we have built up an excellent reputation as a cost effective supplier of high performance silicon products.
"So it is understandable that several Chinese manufacturers of non contact temperature sensors have come to Semefab to provide the chips.
"Local manufacturing of these sensors in China have been overwhelmed by the demand. It is great that we can help to be part of the solution in beating the virus."
Thermopile chips are rated as one of the best instruments to take an accurate measurement of human body temperature, absorbing infrared radiation to help record a reading.
"The old fashioned bulb thermometer is not used any more," Mr James added.
"Especially with something like coronavirus, it could actually spread infection if not properly sterilised after each use."
Meanwhile, other business types are also apparently reaping some rewards from the coronavirus outbreak.
Fife health food store Health Food and More, which is based in Kirkcaldy, revealed £250 of immune remedies were sold in just two hours earlier this week.
Owner Keren Brynes Maclean said she expects the trend to continue.