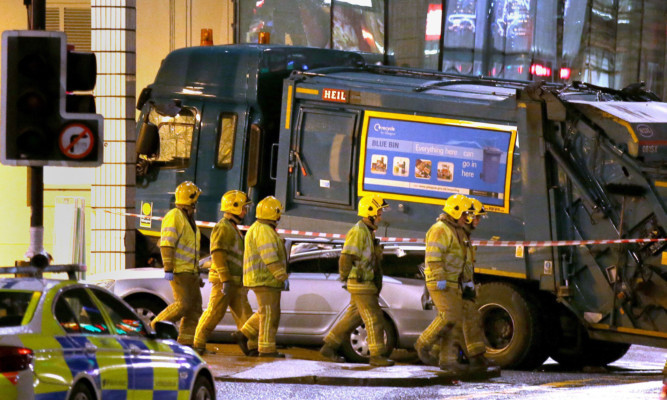 Fife Council is looking at its own practices in the wake of the Glasgow bin lorry tragedy.
The issue of safety was raised by Lib Dem councillor Joe Rosiejak who said he had had to report council staff he has seen using mobile phones while driving.
Saying Fife had to plan for a tragedy everyone hoped would never happen here, he said a robust system had to be put in place.
"Other authorities have announced a package of measures, including changes to the recruitment of drivers and the management of risk on collection routes, what action has Fife Council taken?" he asked.
Health, wellbeing and communities spokeswoman Linda Erskine said the council had set up a working group to review the fatal accident inquiry following the Glasgow tragedy and explore the local authority's own procedures when it comes to driving at work.
The group has already met twice, and a number of recommendations and considerations are planned which have already been presented to the council executive team and will be discussed at scrutiny committee next month.
Although the FAI looked specifically at large goods vehicles and the waste sector, the group widened its remit to look at driving at work practices for all council drivers.
Recommendations take in short, medium and long term plans.
In the short term recommendations are to:
Introduce a third party driving licence check for all council drivers;
Introduce a staff declaration and the need to inform line managers of any health issues which could prevent them from driving;
Move from a combination of occupational health-led and GP medicals to OH medicals;
Review risk assessments for the staff who do not fall into the statutory medical category but may be considered for medicals;
Review the criteria for waste collection route risk assessments, focussing on pedestrianised areas or places where there is a lot of pedestrians;
Continue to promote driver rules;
Take legal advice how recommendations are applied;
Review recruitment practices to ensure pre-employment medical checks are comprehensive.
In the medium term:
Conduct an audit of driver and vehicle safety;
Conduct an audit to review the use of sweeping and grass cutting equipment in pedestrianised areas;
Explore option for retrofit of bin lorries with advanced emergency braking system;
Specifications to be developed for new lorries to include advanced braking systems and other technology like 360 degree cameras;
Promotion of fitness to drive among staff, telling managers and the DVLA of health concerns;
Promote workplace traffic management plans.
Long term proposals could include exploring drug and alcohol testing of those who have driving duties involving unions and having an internal review of employment processes.
"No-one wants to see that happening in Fife or any place," Mrs Erskine added.