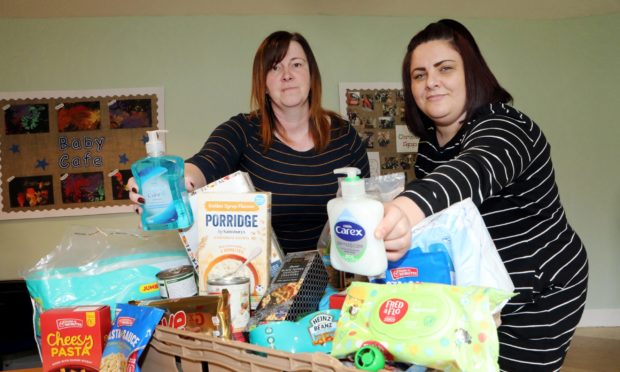 A centre that supports families and children in Kirkcaldy is putting together packages to help vulnerable people who have to self-isolate.
The Cottage Family Centre said it was determined youngsters and their parents should not have to go without if they were forced to stay at home for two weeks or more to help prevent the spread of coronavirus.
The Scottish and UK governments have said anyone with symptoms of the virus – which include a high temperature and a new, persistent cough – as well as other members of the household, should not leave the house for 14 days.
Older people and those with underlying health conditions should take extra precautions.
The centre, which distributes thousands of parcels to needy children every Christmas, said it was putting together packs of nappies, baby milk and other necessities to ensure people without other means of support had what they needed.
Manager Pauline Buchan said: "We know that many of our children and families will be anxious about food , nappies, milk etc and we are doing our very best to put together packages in the event they need to self isolate as we know that many do not have other means of support.
"It is our intention to carry on providing the care and support needed for as long as it is safe for us to do so.
"No-one needs to worry that they are going to be left alone during this time."
The Cottage is also offering emotional  support to those who need it but Pauline emphasised that anyone who feels unwell should not attend the centre but should contact them by phone.
"A lot of the people we work with already have mental health problems and for them, services like this are it," she said.
"We're a social care service and we're supposed to be able to support the most vulnerable at times like this."
Pauline urged the public to continue donating food and other essentials to help them continue the service.
"We need to make sure bairns have access to food if they're off school and we're going to try to provide packed lunches where we can.
"We also want donations of nappies, milk etc.
"People who are struggling on a day-to-day basis don't have the ability to buy in bulk and we all need to be working together.
"If we don't look after the most vulnerable, it makes everybody else vulnerable.
"I don't think folk have thought about that when they're going crazy in the supermarket aisles."
Meanwhile, the official opening of the Cottage's new centre in Kirkcaldy east has been postponed.
It was due to be opened byUnicef director Henrietta Fore ahead of the Adam Smith Festival of Ideas, which has also been called off.