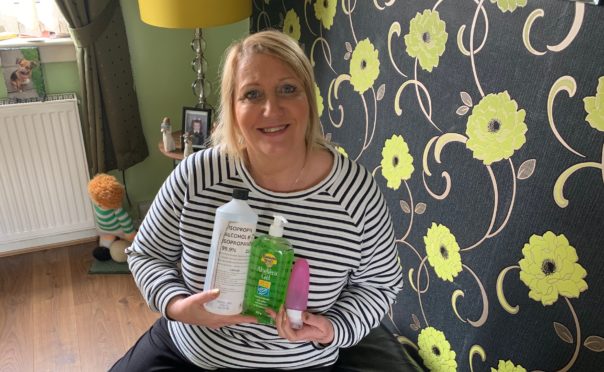 Activists in a Fife community supporting elderly and vulnerable residents have got round the problem of the unavailability of hand sanitiser… by making their own.
Local councillor Lea McClelland came up with the idea of creating the much needed sanitiser after finding the recipe for the product online.
Now the Benarty Emergency Response Team, affectionately known as BERT, are producing their own as part of a concerted effort to support those most at risk and in need during the on-going coronavirus crisis.
Ms Mclelland says the first batch of sanitisers have now been distributed among Benarty residents with feedback being overwhelmingly positive.
She said: "It's just one of a wide range of support measures the volunteer group have been undertaking to support those who need it and one of the overriding concerns, especially among older folk was being unable to purchase hand sanitiser because  of the stockpiling and panic buying in recent weeks.
"So I got on the internet and found a simple formula that I've since been trying out at home and residents seem to love it.
"As well as the obvious health and preventative benefits distributing the bottles that we've made has eased the real anxiety older folk are often experiencing as they battle to remain safe during this health crisis."
The councillor is now using her kitchen for the makeshift production which consists of a mix of a 99.9% based alcohol solution with an aloe vera gel.
Along with the had sanitiser BERT volunteers are also offering support delivering vital prescriptions, food parcels and groceries to those either in self isolation or unable to get out of their homes.
Meanwhile, gin firms in Tayside having been inundated with demand after turning their focus to producing hand sanitiser from alcohol spirit, Redcastle Gin at Arbroath and Verdant in Dundee are among Scots distillers now turning to sanitiser production.
Their efforts during the coronavirus crisis have been recognised by the Treasury which has confirmed that it will scrap excise duty on the liquid after much lobbying from distillers.
Until the announcement the UK Government had required all distillers to pay full HMRC duty on the liquid, at a rate of £28.74 per litre ex VAT, pricing them out of producing the much needed sanitiser.
Fiona Walsh founder and director of Toll House Spirits Ltd said "Day 10 of supplying hand sanitiser to those most in need and we got excellent news from HMRC . No more excise duty.
"I'm glad we took the leap of faith early and followed our gut instinct to do the right thing."