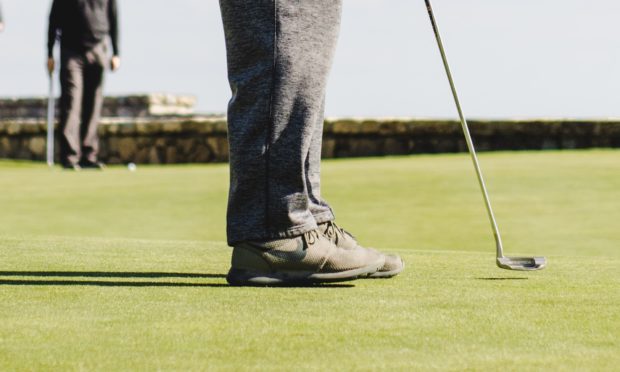 A Fife golf club has urged the public to stay away from its greens after golfers were spotted playing on just hours after the nation was put in lockdown over the covonavirus pandemic.
Several sightings were made of players using the greens at Cupar Golf Club on Tuesday, despite the club having closed its facilities following guidelines form the UK Government and Scottish Golf.
The club had initially made the decision to grant access to the nine-hole course, said to be the oldest in the world, for public exercise but has since closed the course completely.
One member of the public who spotted those defying the ban said: "We all have the responsibility to protect our family,  friends and golf buddies.
"Why risk it?
"It sickens me to know that people are not taking this pandemic seriously."
Club Captain Keith Ripley said he was disappointed by the actions of those defying the government restrictions and has issued a plea for anyone greens to stay away and comply with the official advice to stay indoors.
He said: "The club took the decision to close the clubhouse and the course in accordance with the government's advice and from guidance issued by Scottish Golf.
"We certainly do not condone the actions of individuals who wish to defy those restrictions and would strenuously urge them to reconsider their actions for the good of themselves and others during this national emergency.
"In accordance with the current guidelines our greenkeeper is permitted to continue working and he will report anyone stupid enough to want play on in the current crisis."
In the wake of Prime Minister Boris Johnson's announcement on Monday evening, golf clubs across the Kingdom closed their doors to members.
A spokesperson for Scottish Golf said: "While golf is an outdoor sport that allows players to exercise in the fresh air, the message to all of us is clear, we must stay at home and play our part in containing the spread of COVID-19.
"With this in mind Scottish Golf asked all golfers in Scotland to refrain golfing until further notice.
"We understand that the advice will have a significant impact on golf clubs across the country and we will continue to consult with our industry partners to provide clubs with all the information and support necessary in this time of deep uncertainty."