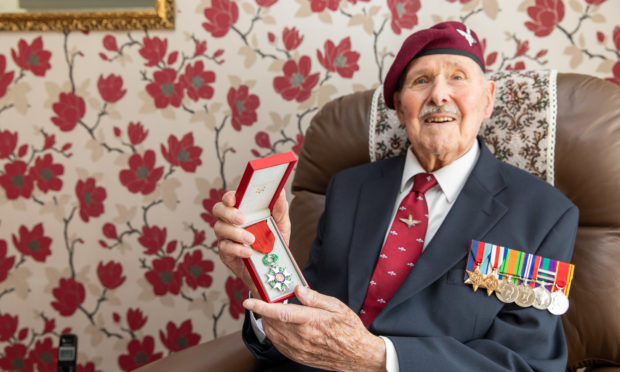 A Fife Second World War veteran, who was officially presented with France's highest military honour the Legion d'honneur on the 75th anniversary of D-Day last year, has died at the Victoria Hospital in Kirkcaldy aged 96 after a short illness.
Eric Tandy, who lived in Glenrothes, was presented with the prestigious medal by the French Consulate at a ceremony in Edinburgh on June 6 last year, for his heroic role in the Allied invasion of Normandy.
Eric, who served with the 7th Battalion The Parachute Regiment, was a 20-year-old paratrooper when he was accidentally dropped behind enemy lines on D-Day and tried to make his way back to his own regiment through a minefield only to be captured by the enemy and held half-starved in a prisoner of war camp before being force marched with fellow POWs to become human shields in Berlin.
He was the sergeant in charge of an aircraft carrying paratroopers from England to France as airborne forces of the British Army took part in the infamous Pegasus Bridge campaign during the early stages of the Normandy Landings.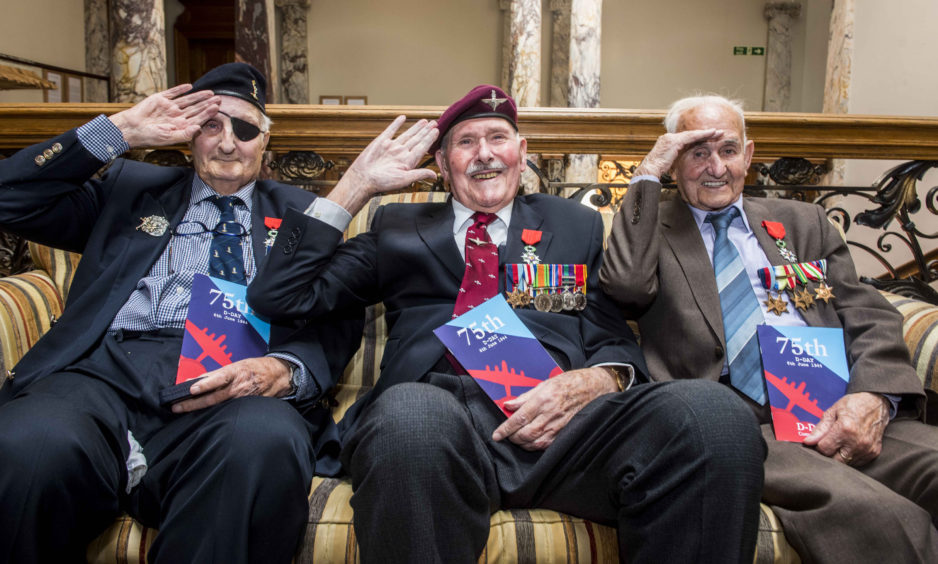 In an exclusive interview to mark his 95th birthday on Tuesday February 26 last year, he relived those events from the closing months of the war, and told of the impact they had on his life.
"I was the first onto the aircraft and, therefore, the last to exit ensuring that all paratroopers had left the aircraft," he said.
"Unfortunately, midway through the job of deploying the soldiers out of the aircraft, a medic was wounded by anti-aircraft fire.
"He crawled to the exit of the aircraft, resulting in delaying the rest of the "stick" from exiting the aircraft, causing us to overshoot the drop zone by about 10 miles."
Eric explained that on landing, a gunner corporal and he attempted to make their way back to Pegasus Bridge where the Allies' mission was to seize the bridge over the Orne River and prevent German armour from crossing over to attack the eastern flank of the landings at Sword Beach.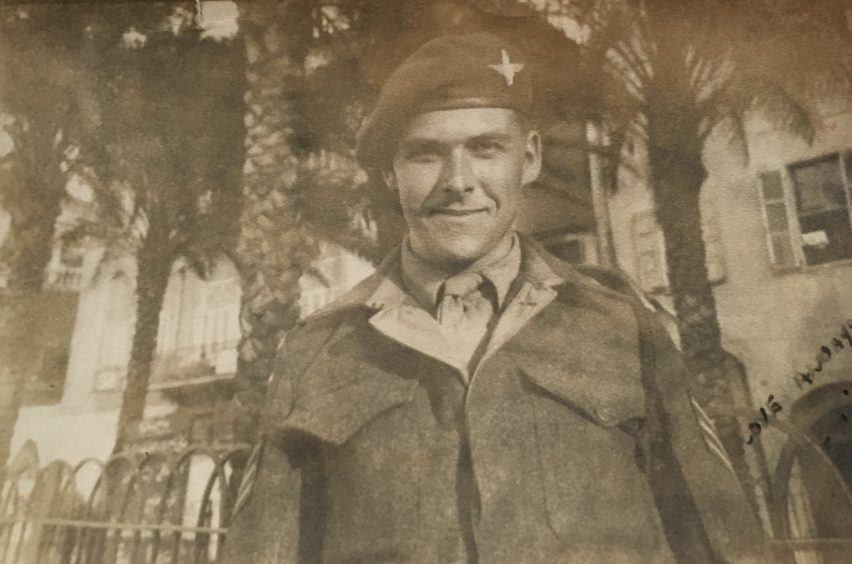 However, they came across two Commandos trapped in a minefield – one being mortally wounded and the other unhurt.
Eric used his experience of minefields to get them out of the danger zone.
However, later that morning, and after coming under enemy fire, they were taken prisoner after German troops set up camp to cook breakfast and found them hiding in a hedge.
After a couple of days, Eric and his colleagues were taken to Stalag 357 at Fallingbostel where he was a Prisoner of War for approximately eight months.
Eric, whose brother and First World War veteran father also served in the war, was eventually demobilised to the Isle of Wight.
Once he regained his strength, he was deployed with the 4th Parachute Regiment and was posted to Palestine.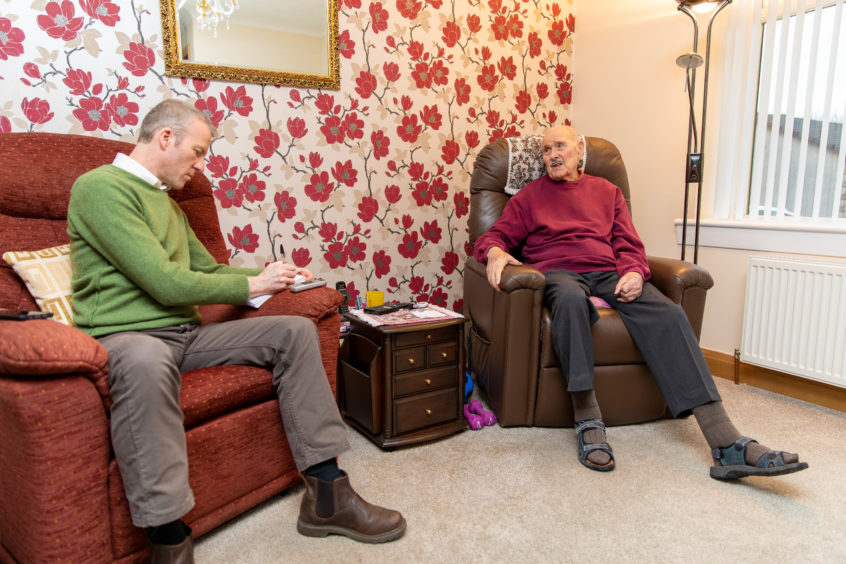 Eric, who was schooled in Canada, went on to make his career in the Army after the war.
Marrying June in Coventry in September 1946 and raising a family of two, he re-enlisted with the RASC (Royal Army Service Corps) and from there to the Army Fire Service from where he retired at the age of 62.
He reached the rank of Senior Fire Service Officer (army equivalent rank of Lt Colonel).
Moving to Fife more than a decade ago to be near family, Eric, who has three grand-children and four great grand-children, was widowed in 2015 and, despite his advancing years, he still managed to live largely independently – just a short distance from his daughter Lorraine's house.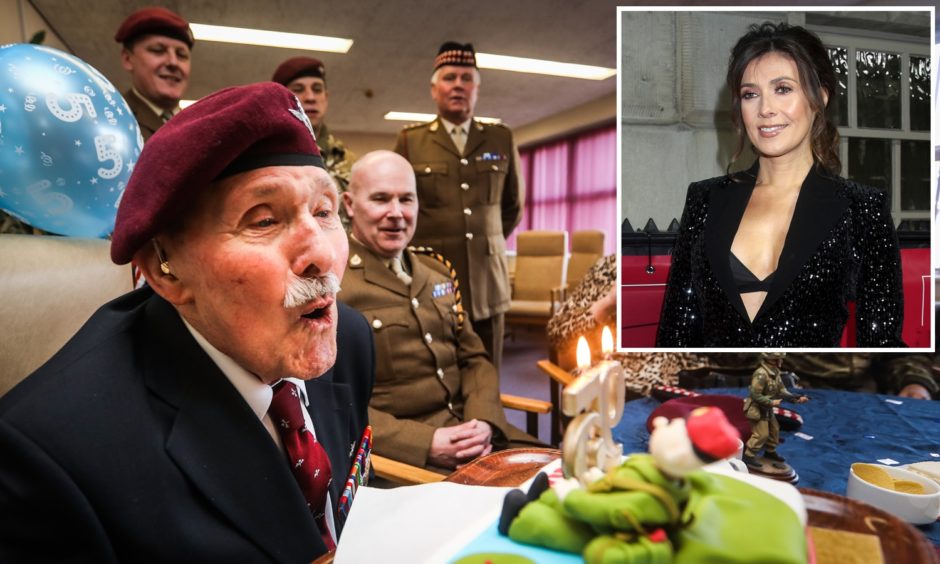 A veteran of several Land's End/John O'Groats walking marathons and an army climb up Kilimanjaro, he said last year that if it wasn't for his doctor saying 'no' on health grounds, he might have jumped with the Parachute Regiment's parachute display team, the Red Devils, to mark the D-Day 75th anniversary celebrations.
The Courier's coverage of his birthday last year even caught the attention of former Coronation Street actress Kym Marsh who concluded that his wartime exploits were similar to those of her own grandfather.
While Eric was awarded France's highest military honour the Legion d'honneur last summer, his own father was awarded the Military Medal for valour in France in 1917.