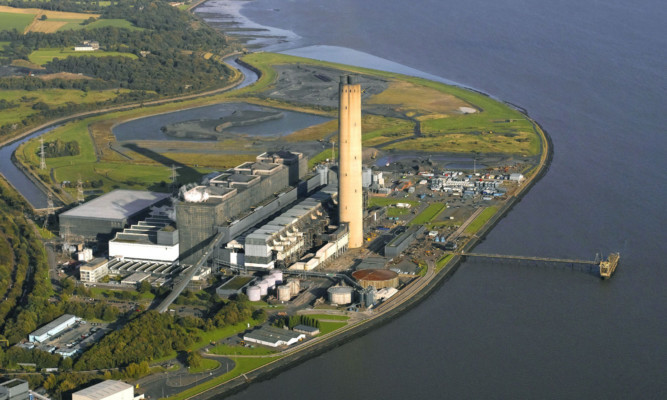 Fife Council has renewed calls for the Scottish Government to pay £9 million to fund the economy recovery plan  created by the Longannet task force.
The authority says rescue plans for other firms, Halls of Broxburn and Tullis Russell in Fife, should be matched at the power station, which closed last month.
The Government's refusal to release funds has led Fife Council's deputy leader to claim it may be because  of other plans for the site, possibly including the controversial practices of fracking and underground coal gasification (UCG).
Councillor Lesley Laird said in the past money had been put on the table "no ifs, no buts" as "an appropriate response to an extraordinary event".
She added: "But somehow that approach does not apply to Longannet.
"It would appear that the closure of Longannet does not meet the yardstick of being an extraordinary event.
"Despite the months of planning, preparation and scoping of short, medium and long-term actions via the task force, when it came to providing the seed corn money of £9m that this plan was costed at to take the action plan  forward, there was no money.
"We cannot believe the Scottish Government would turn its back on the communities who are left with a site that now requires significant decommissioning and restoration and that there is no legacy of support to help regenerate the area."
She went on: "While the current  moratorium on fracking and UCG is in place, there is now a complete lack of clarity by the Scottish Government on their long-term intentions regarding UCG and fracking.
"Given their senior representatives' reported meetings and activities with Ineos and combined with this sudden shyness on saying no to fracking or UCG, it may not be unreasonable to conclude that a reason that Longannet is getting no money now is because the Scottish Government plan to use the site for something else.
"And it may not be unreasonable to conclude that the something else might include fracking and UCG activity."
The leader of the opposition on  Fife Council slammed Labour for  "politicising" job losses in west Fife.
SNP group leader Councillor Brian Goodall said the taskforce had already heard about directly employed  workforce, where all but 35 had found positive outcomes, and work was  ongoing to ensure support for those
facing redundancy due to the potential impact on the supply chain.
A Scottish Government spokesman said: "No fracking can or will take
place in Scotland while the Scottish  Government's moratorium on
unconventional oil and gas remains in place."