VIDEO: Rare discovery as couple come across octopus crawling on Fife beach
By
Cheryl Peebles
A couple on a Fife beach were stunned when their dog stood on what they thought was a jellyfish but was actually a live octopus.
Mikey Cunningham and partner Sioned Lloyd were walking Ruby on Pettycur Bay when they made the amazing discovery.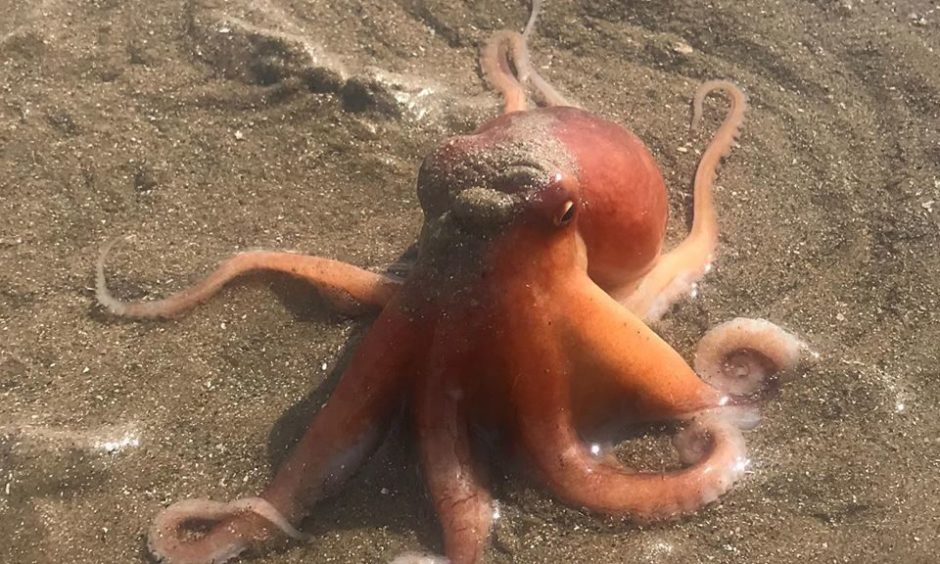 They filmed the stranded cephalopod as it squelched its way back to the water between Kinghorn and Burntisland.
Although octopuses are common in UK waters, it is unusual to see them on the shore.
The couple were heading towards the Black Rock just after low tide on Easter Sunday when they spotted the lesser octopus.
Mikey, of Kinghorn, said: "It was making its way back to the water, which was close with the tide coming back in.
"Ruby stood on it and we thought it was a jelly fish to start with then all its tentacles came out and we realised it was an octopus."
Mikey shared video and photographs on social media and has been inundated with messages.
Local marine life enthusiast Ronnie Mackie, of the Forth Marine Mammals group, said: "This is a great bit of video; it was exciting to see it.
"There are octopuses around the area all the time but seeing them on the beach like that is unusual.
"Fishermen will get them in their creels.
"This was a really healthy specimen, it was really active. If they have been stranded for a while they get worn out and dehydrated."
Lesser octopuses can grow up to 20 inches in length, including their legs. Mikey said the one he found was about the size of an Easter egg.
More from The Courier