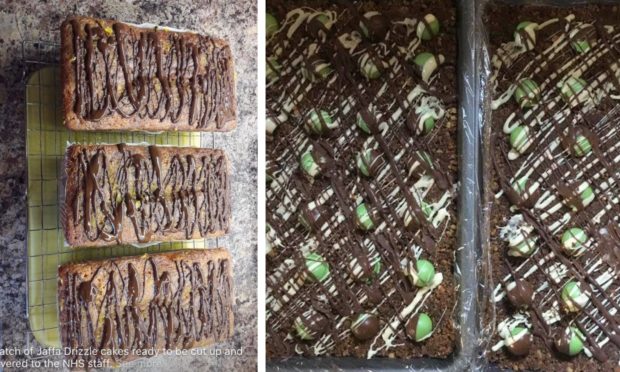 A team of Fife bakers have been helping to deliver well-deserved treats to frontline NHS workers.
Volunteers at the Manna community café in Newport have been dropping off cakes and traybakes for distribution to local hospitals.
Jackie Donachie, an infection control nurse whose mother-in-law Mairi Shiels is one of the bakers, has been distributing the cakes.
Staff working with coronavirus patients at Ninewells Hospital have been among those to receive the welcome donations, along with staff at Victoria Hospital in Kirkcaldy, St Andrews Community Hospital, Adamson and Stratheden hospitals in Cupar, and Glenrothes Hospital.
Morag Rowley, assistant manager of Manna Café, said about a dozen bakers had stepped forward to help.
"It's keeping people busy. I think everyone's just trying to do something to help," she said.
Mairi added: "All the items are separately wrapped, and as Jackie and her contacts are visiting these hospitals anyway, no non-essential journeys are involved.
"Without exception, the recipients have been absolutely delighted, and assure us that it gives them a real boost to know that we are thinking of them and cheering them on."