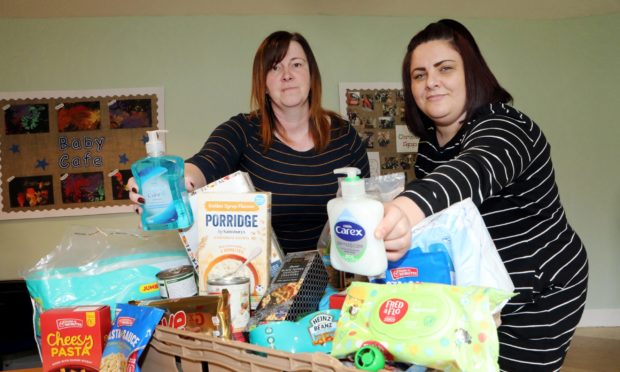 Vulnerable families across Kirkcaldy will continue to receive support thanks to a £60,000 cash boost.
The donation to the Cottage Family Centre will enable staff to help families with at least one child under five, who are facing significant hardship or crisis.
The money came from local organisation Greener Kirkcaldy, which was awarded £241,500 from the Scottish Government's Supporting Communities Fund.
It decided to use half of its windfall to meet its own running costs and to give the other half to four local charities – The Cottage, the Linton Lane Centre, Kirkcaldy Foodbank and the town's YMCA.
Cottage Centre manager Pauline Buchan said it would allow her organisation to feed a high number of children amid increasing demand during the coronavirus lockdown.
"We currently have 141 families registered for support with our services in the Kirkcaldy area but since the lockdown many more families have lost income, jobs and security and have been placed in a vulnerable position," she said.
During the past five weeks, the centre has provided 737 food hampers and 5,250 packed lunches to youngsters and their families.
"Many of these families were not registered with the Cottage but were signposted by agencies such as social work and NHS services for support," said Pauline.
"We realised quickly that there had been very little provision for families with children under five-years-old.
"Those children are not of school age and therefore their parents are not entitled to the additional payments for lunches.
"Some of the families we support are working but just don't have the additional funds to provide additional meals or snacks, never mind activities."
Pauline said those living in poverty were vulnerable in terms of their emotional and physical health.
"This funding will allow us to ensure families are receiving fresh, wholesome food and are not reliant on food which has no nutritional value, as well as providing support and activities for our wee ones," she said.
"We would like to say an absolutely massive thanks to the Scottish Government Supporting Communities Fund and Greener Kirkcaldy, especially Suzy Goodsir, who helped make this happen."
She also thanked locals who have donated time, money and essentials to help meet the demand.
"We literally wouldn't have been able to keep delivering the extra support up until this point without that power of community so we are very, very grateful."
Suzy Goodsir, from Greener Kirkcaldy, added: "We were asked to help identify local organisations in need or urgent funding to support local families through this crisis."