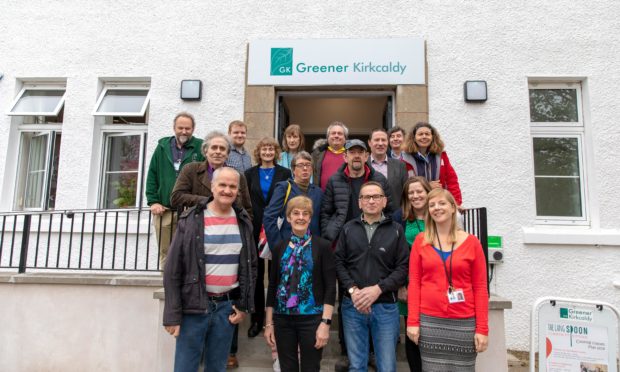 People and organisations in Kirkcaldy will benefit from increased funding.
Greener Kirkcaldy has been awarded £241,500 from the Scottish Government's £40 million Supporting Communities Fund as part of emergency funding to respond to the current crisis.
The group will distribute £148,000 to other local charities in need of urgent financial help to stay open.
Kirkcaldy Foodbank, The Cottage Family Centre, Kirkcaldy YMCA and the Linton Lane Centre will all receive a cash boost.
It will use the rest of the money to contribute to its own running costs and support its emergency response projects, including community food support in Kirkcaldy and energy top ups and advice across Fife.
Suzy Goodsir, Greener Kirkcaldy chief executive, said: "We'll be able to be flexible in our support, and assist the people who need us most."
Joyce Leggate, chair of Kirkcaldy Foodbank, said: "This generous grant will enable us to maintain the supply of food to those in most need during the current crisis and beyond.
"Kirkcaldy Foodbank relies entirely on the generosity of the local community and it is heartening to see that its value is recognised by both local and national government."
Greener Kirkcaldy's energy advice service, Cosy Kingdom are giving top ups to people who are struggling financially and are at risk of being disconnected.
They are also operating a telephone service to help advise on bills, supplier or debt.
Project manager, Bruce McCall said: "Since lockdown measures began, we have spent around £8,000 providing over 150 households with emergency fuel top ups to ensure they would not be disconnected.
"We have also supplied heaters and microwaves to those without heating or cooking facilities. This funding will allow us to support even more people in need of our help."
Another of Greener Kirkcaldy's projects, Community Meals to Go, is making and delivering freshly cooked meals.
More than 400 have been delivered to Kirkcaldy Foodbank and people lacking family support, the physical ability to cook food on a regular basis, on a low income or unable to leave their home.
Project co-ordinator, Geraldine O'Riordan, said: "Funding from the Scottish Government means we can scale up our community food support.
"In these difficult times a home-cooked meal is a welcome comfort and helps our community feel nourished and supported."