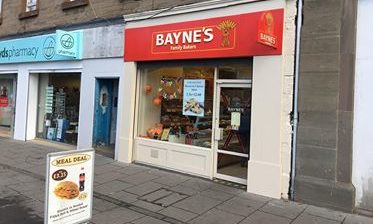 A Fife bakery has re-opened 42 of its shops with a range of measures to keep staff and customers safe.
The family-run company closed all of its stores across on March 23 just after the country went into lockdown.
Ten were re-opened on April 3.
Joint managing director John Bayne said the remaining shops would reopen with enhanced safety measures in place when they could.
Changes include fewer staff selling a range of essential goods, perspex screens at the tills, a move to card payments only, reduced opening hours and having a restricted number of customers in each shop at a time.
A home delivery service has been introduced in some areas of Fife.
Mr Bayne said: "I would like to thank all our staff for their hard work and support over the past few challenging weeks.
"Please could you respect the systems we have put in place to keep other customers and our staff safe by social distancing."