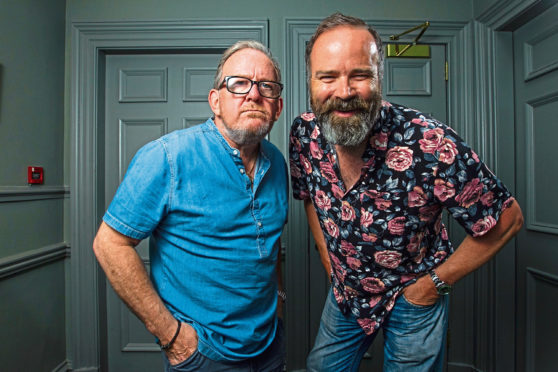 Greg Hemphill has revealed he is now a Fifer – but not yet in the eyes of natives.
The Still Game star, 50, said he moved from Glasgow to picturesque Elie, in the East Neuk, in 2019.
He is currently locked down at the family home he shares with actress wife Julie Wilson Nimmo and their children.
He said: "I'm in Elie, in Fife, which is a little fishing village.
"I became a Fifer last October after selling up our house in Glasgow after nearly 30 years."
Hemphill is now a self-proclaimed Fifer, but admitted he is still waiting for official recognition from locals, adding: "You have to wait for the medal or whatever it is they give you."
Speaking on BBC Scotland series Shelf Isolation, aired last night, Hemphill discussed how he is filling his time on lockdown watching horror films.
He revealed his obsession with the film Jaws after watching the Steven Spielberg shark classic more than 100 times since first being terrified by the giant man-eating shark at the age of just six.