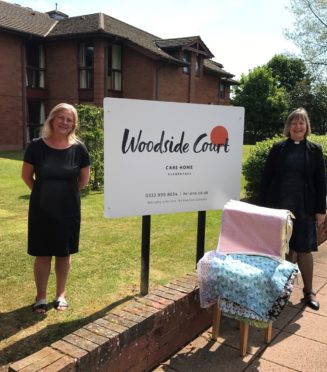 The congregation of St Margaret's Church in Glenrothes have come together to show their support for residents and staff at four of the town's care homes.
Rev Eileen Miller, Minister at St Margaret's, recently delivered 175 cards to the residents of Woodside Court, Lomond Court, Preston House and Finavon Court to let them know they were being missed.
Before the lockdown, members of the church enjoyed visiting regularly to lead short worship services and singalongs with the residents.
In addition, members of the church craft team have been busy knitting pairs of hearts  for the residents and families at Woodside Court who are separated by the lockdown.
"The idea is that one heart is given to a resident in the care home and the matching one to a family member as a symbol of their connectedness even during separation," explained Rev Miller.
In a show of support for frontline workers caring for residents at the homes during the continuing lockdown, members of the congregation have also been busy sewing to produce laundry bags for nurses and carers to carry their uniform to and from work.
A spokesperson for the care homes praised the church for its continued support for residents, nurses and staff during the ongoing crisis, adding that the gifts had been "very much appreciated" by everyone concerned.