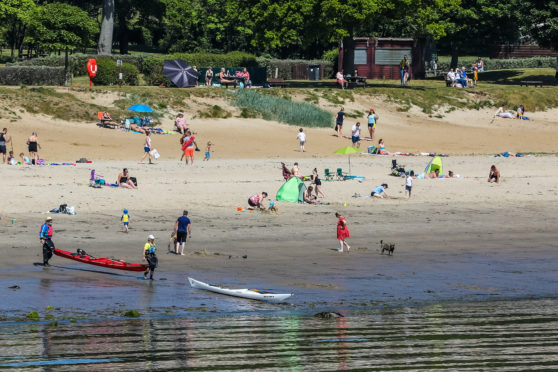 Coastguard officers will be on patrol around the shores of Courier Country as people enjoy a little extra freedom.
As lockdown restrictions were eased the Maritime and Coastguard Agency said personnel would be on patrol from this weekend.
People made the most of soaring temperatures during the first day of relaxed coronavirus rules to hit beaches and beauty spots on Friday.
By mid-morning Silver Sands at Aberdour was filling up with families, enjoying a splash in the sea and some sunbathing. Kayakers also took to the calm waters.
With sunshine expected to continue, more people are expected to enjoy locations such as West Sands, in St Andrews, Broughty Ferry beach and West Links, Arbroath.
Levenmouth and St Andrews Coastguard issued advice to those heading to the beaches and for the water.
It said: "Plans are in place to have Coastguard personnel on patrol along our coast as of this weekend.
"We would be grateful if you can take a minute to consider your plans and what you should do if your, or someone else, needs assistance on our coastline."
For those heading out on the water, it advised ensuring they are equipped with appropriate safety items, including lifejackets and the means to call for help, whether a VHF radio or mobile phone.
They should also tell someone where they are going and when they plan to return, be aware of their surroundings, and stick within their abilities when kayaking, swimming or the like.
The local team also urged people to stick to the Scottish Government guidelines and call 999 if they need urgent help.
It said: "It takes time respond to when someone is in trouble, every second counts.
"If you are concerned about someone or something on our coastline, beaches, mud or harbours, call 999 immediately and ask for the Coastguard."