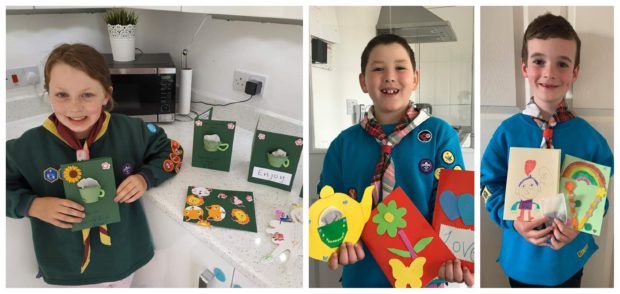 Kind-hearted Scouts from Rosyth have been delivering greetings cards to care home residents with a teabag and biscuits enclosed so they can share a virtual cup of tea together.
The youngsters are taking part in the Care for Care Homes campaign, in which Scouts are across the UK are aiming to complete 10,000 acts of kindness to help reduce social isolation and loneliness for residents.
The Rosyth contingent, which has groups in the town itself, as well as Inverkeithing, Dalgety Bay, Aberdour, Fordell Firs, Cowdenbeath and Kelty, have already sent around 80 cards and have made a video about their initiative.
Terry O'Neill, a volunteer with Rosyth Scouts, said: "I am extremely proud of all of our young people and volunteers. Despite the challenges that have been sent their way recently, tackling school from home, working from home and caring for family members, they have continued to show all of the values that Scouting promotes and, in the case of caring for care homes, thought about those that are most vulnerable in our communities."
Beaver Scouts from 46th Fife in Cowdenbeath delivered beautiful handmade cards with tea bags and chocolate biscuits for all the residents at Cedar House.
The home's manager Dawn Wallace said the gesture cheered everybody up.
Cubs from Kelty did the same for the Benarty View home.
Its manager Karen Bell said residents were touched that the cubs had thought about them.
"The staff put the cards on display in the living area for all to enjoy," she said.