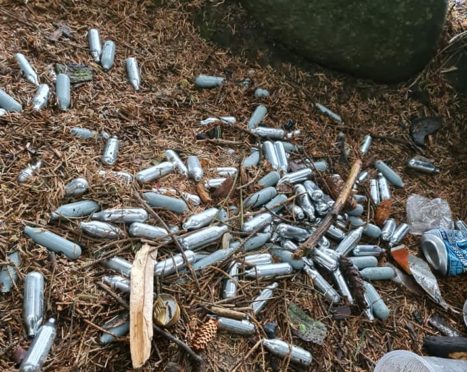 Scores of mini gas canisters, used as a form of solvent abuse, have found dumped at a Fife beauty spot.
A large number of nitrous oxide gas canisters were found, along with beers cans and spirits bottles, at Coul Den nature reserve in Glenrothes.
Residents say the area is being regularly targeted by youths intent on abusing the "laughing gas" which, if taken in large quantities, can give the user a high but also trigger dizziness and blackouts.
Users also run the risk of falling unconscious or suffocating from lack of oxygen. Regular use can also stop the body from forming white blood cells properly.
Fears have been raised the abuse of the gas canisters, referred to as "buzz cans" or "hippie crack", could be growing after similar discoveries in the town in recent weeks.
Glenrothes resident Gary McIntosh, who found the cache while walking his dog, said: "I have seen them in a few areas but not in this sort of capacity.
"It's quite a worrying issue with the amount of canisters there has been left. I don't think those using this gas realise the dangers of using these canisters."
Denise Wallace from North Glenrothes Community Council has warned parents to be on the lookout for users and urged the public to report any further finds.
"The abuse is something we've not come across before and obviously there are associated health risks for anyone abusing such things which is why we are calling for people to remain vigilant and report any further findings to the police.
"We are also urging anyone who ventures up to Coul Den or similar beauty spots around the town to leave nothing but a footprint and bring away any rubbish rather than leave it to blight the landscape."
Sergeant Cheryl Young from Glenrothes police office said they had not been informed of widespread use of the gas in the town but warned of its dangers.
She said: "Nitrous Oxide, is a psychoactive substance which is illegal to supply or sell on and users can also suffer various health implications including dizziness caused by lack of oxygen to the brain.
"Any intelligence received by Glenrothes police in relation to the supply of this substance will be robustly investigated by local officers.
"Any member of the public with information should contact police on the 101 number, or, if they wish to remain anonymous, then through Crimestoppers on 0800 555 111."