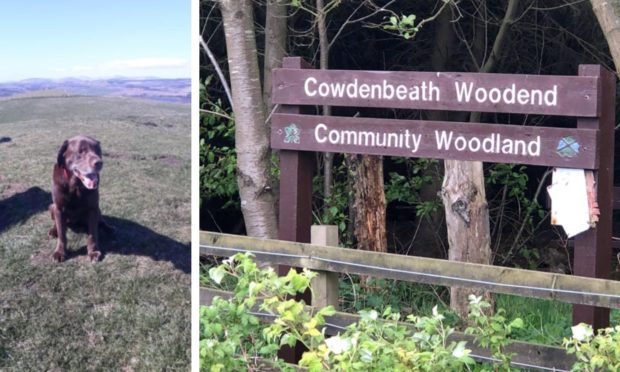 A Fife dog owner has highlighted the dangers of letting pets swim in ponds after her chocolate Labrador died following a trip to a local woodland.
Nine-year-old Ollie fell ill after taking a dip in a pond at Woodend Community Woodland in Cowdenbeath and owner Denise Dair, 42, is convinced he was harmed by something in the water.
Fife Council has put up signs at the woodland warning the public about potential algal bloom, which is toxic to dogs.
Denise has no proof of what killed Ollie but said he fell ill directly after being in contact with the water.
"We took this mad, crazy dog out for a walk but we brought back another one," she said.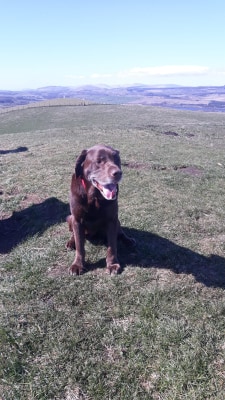 "I had him off the lead and he was right in the pond. When he came out of the water he was coughing and that night he became really unwell."
Surface of Perthshire loch turns blue as toxic algae, harmful to humans and animals, appears
Ollie was given antibiotics and medication for a heart problem by a vet but his condition only deteriorated over the following weeks. In the end he had to be put down.
"I did a lot of crying when he was ill, watching him suffer," said Denise.
"I wouldn't want anybody else to go through that."
Heartbroken dog-owner warns of algae in Fife burn following death of beloved pooch
Local Conservative councillor Darren Watt has been liaising with council officers over the matter.
"I was truly saddened to hear of the passing of a much loved family pet," he said.
"With concerns that the dog had been playing and drinking in a particular body of water, I alerted the relevant officers at Fife Council and asked for an immediate investigation. Thankfully they responded very quickly and they are now looking into this.
"As much fun as dogs have in the water, especially on hot days, I would advise people not to allow their dogs to enter any body of water such as burns, ponds and lochs. It's simply not worth the risk as it's clear the consequences can prove to be fatal."
Nigel Kerr, head of protective services at the council, said: "I'm sad to hear about this incident and send my condolences to the family
"At the start of the season NHS Fife issued an advisory press release raising awareness of the potentially hazardous blue-green algal blooms. As well as liaising with NHS Fife to issue further public advice, we've also carried out an inspection.
"As a precaution we've put signs up warning people of a suspected blue green algal bloom. We will also monitor the location regularly until the end of the season, which is usually October time."