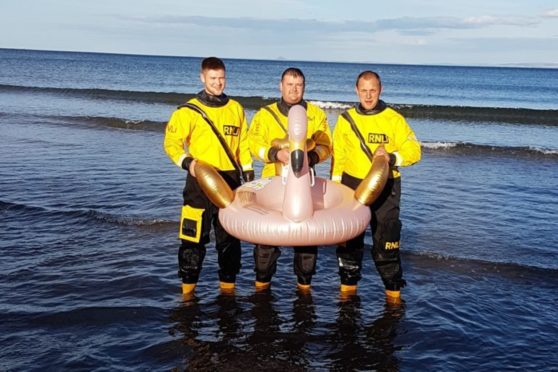 The RNLI in Fife has stepped up its beach coverage this weekend, manning two more stretches of the kingdom's coast, with an influx of visitors expected.
The RNLI ensured two Fife beaches – St Andrews East Sands and Aberdour Silver Sands – would be manned by lifeguards last weekend after an enforced lay-off and that is to be extended to Elie and Burntisland this weekend.
Th decision came after the organisation warned against taking inflatables into the water.
The Kinghorn crew has had to deal with inflatable dinghies and a wayward giant flamingo, while a large Iron Man balloon sparked an alert off the Kirkcaldy coast last year.
Neil Chalmers, from the Kinghorn RNLI crew, said an easing of lockdown does not mean an instantly safer coast, with water temperatures remaining dangerously cold.
"We've had a really busy week with eight call-outs so far to a variety of incidents," he explained.
"So we're just asking people to be careful and watch what they are doing.
"The pink flamingo came from Portobello Beach we think and it was a false alarm with good intent, but these sorts of things can take us away from a real emergency.
"We recommend people don't take inflatables to the beach."
Mr Chalmers also urged any beachgoers to respect current social distancing guidance and refrain from touching operational equipment.