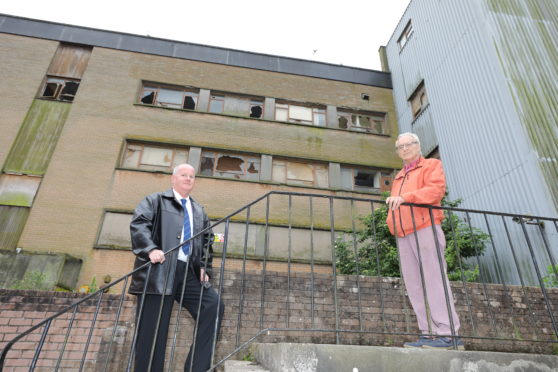 Work to finally address one of Fife's worst eyesores is about to start this week, the Courier can reveal.
The dilapidated former Co-op department store in Glenrothes, which has lain empty for the past eight years and has been a magnet for vandals, is to be given a makeover following considerable pressure by locals.
Mars Pension Group, which owns the building at the Albany Gate entrance to its Kingdom Shopping Centre, has appointed contractors to make it safe and improve its exterior, with work expected to start in earnest in the coming days.
Members of Glenrothes and Area Futures Group (GARF) have campaigned for years for the building's owners to address what they saw as a serious health risk posed by the building.
The Courier revealed in December a planned demolition had been scrapped because of an estimated £1m cost of tackling the asbestos which runs throughout the former Co-op, which originally opened in 1964.
GARF were informed of the work in a letter from Gordon Mole, Fife Council's head of Business and Employability, who also indicated it could yet be razed.
He wrote, "This work is to address the visual aspects of this part of the complex, ahead of its intention to address wider demolition works in the future.
"This will include removing glass, substantial boarding, painting, graffiti removal and other associated works."
Confirmation the building would be made safe and its appearance improved was welcomed by GARF member Ron Page.
He said: "Making the former Co-0p building safe and aesthetically acceptable has been our top priority and it's pleasing to finally see so movement on this.
"The building has been a major embarrassment for the town for a number of years since it close and was  left to spiral into serious decline."
John Goodman, GARF secretary added: "Finally it's some good news for that part of the  town centre and the former Co-op building that has posed a problem for some considerable time.
"The fact the Fife Council have backed our calls to see the problems addressed has helped and its continued support to see town centre improvement is very encouraging."