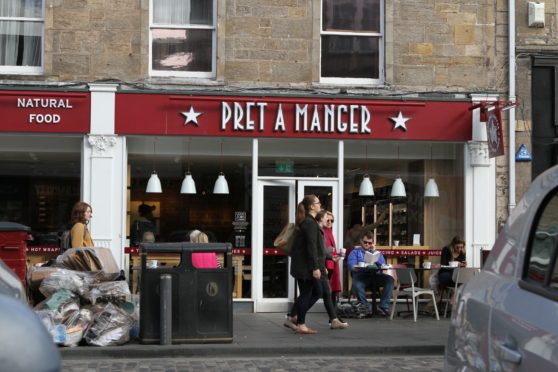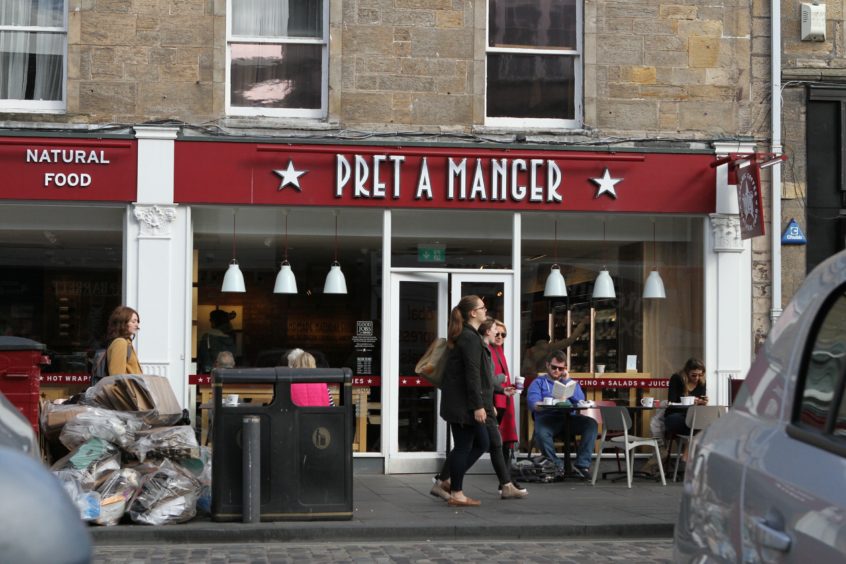 Staff at St Andrews coffee shop Pret A Manger have learned if their branch has been selected for closure.
Pret a Manger announced today that it is to permanently shut 30 of its stores after sales plummeted during lockdown.
The chain has a branch at Market Street in St Andrews, which reopened at the start of June along with more than 300 other locations.
However, sales and footfall across the business have been hit hard by a heavy reduction in the number of people travelling into offices, with more people working from home due to the pandemic.
The Fife branch is not one of the shops selected to close – but the list does include sites in Edinburgh and Glasgow.
The company said its sales have dived by almost three-quarters – 74% – compared with the same period last year.
As well as closing 30 shops before the end of the year, the number of workers in Pret's other shops will be reduced.
The restructuring will mean around 1,000 people could be let go. Pret employs 13,000 people globally, including 8,000 in the UK.
A sale process will be started for the lease of its main support office in London Victoria.
The company said it has faced "significant operating losses" following the outbreak and will soon start consultations with staff.
Pret will start the consultation process with shop teams and support centre staff this week with the company stressing no final decisions will be made until the process is complete.
Discussions are also ongoing with landlords across its estate to develop a more "sustainable" model, after external advisers were hired.
Chief executive Pano Christou said: "It's a sad day for the whole Pret family, and I'm devastated that we will be losing so many employees.
"These decisions are not a reflection on anyone's work or commitment, but we must make these changes to succeed in the new retail environment.
"Our goal now is to bring Pret to more people, through different channels and in new ways, so that we can continue to provide great jobs and opportunities to our remaining employees."
As well as St Andrews, Pret has five outlets in Edinburgh and four in Glasgow.
The full list of branches set to close
GREATER LONDON
St George University Kiosk
421 Strand
Heathrow Terminal 3
109 Fleet St
Strutton Ground
Centre Point
Warwick Way
Byward Street
Southwark The Cut
41 Piccadilly
Wood St
OUTSIDE LONDON
59 High St, Worcester
Albert St, Nottingham
Lion Yard, Cambridge
Fargate, Sheffield
High St, Uxbridge
Broad St, Reading
High Wycombe
Metrocentre, Gateshead
Queensgate Centre, Peterborough
Shandwick Place, Edinburgh
East Street, Chichester
Glasgow Fort Shopping Centre
Gallowtree Gate Leicester
Shrewsbury
Lakeside
Capitol Centre, Cardiff
Grainger Street, Newcastle
Stratford-upon-Avon
Chapelfield, Norwich