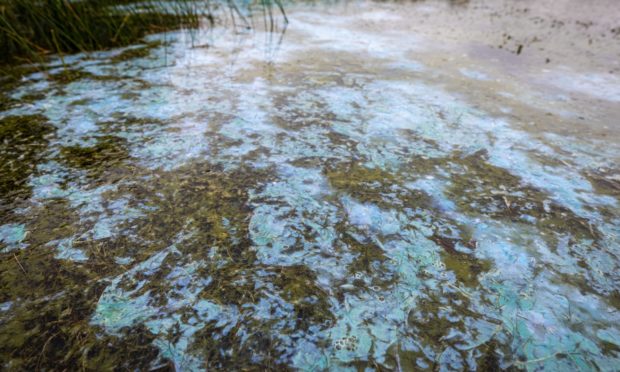 A new health alert has been sparked after blooms of dangerous blue-green algae were found at two more Fife waterways.
Fife Council has confirmed that cyanobacteria, more commonly known as blue-green algae, has been identified at Lindores Loch near Lindores and Birnie Loch near Collessie.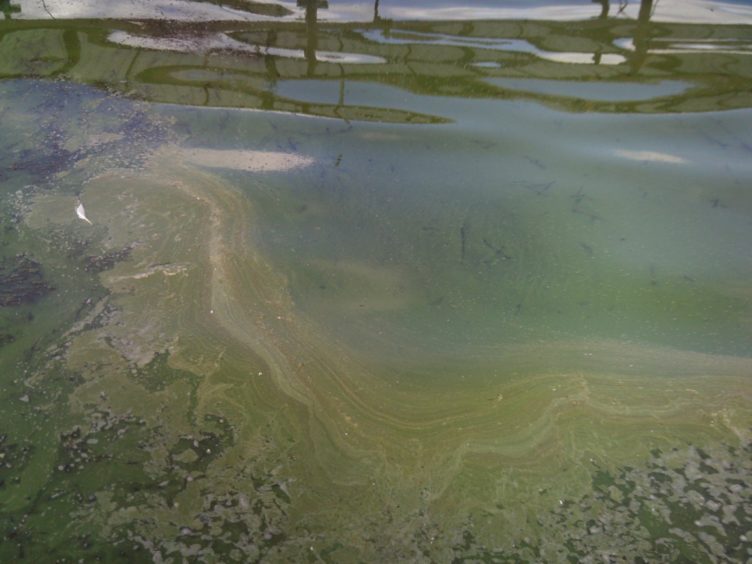 Blue-green algae poses a risks to public and animal health when it forms blooms and scums in freshwater in warm summer months.
Health chiefs warn algae harmful to both humans and animals could be in Fife's waterways
In people, exposure to the toxins may cause skin rashes and more severe symptoms if swallowed.
However, dogs are at a higher risk if they drink the water or lick their coats after swimming.
In extreme cases, it may prove fatal or lead to severe symptoms requiring rapid vet treatment.
The latest discovery comes weeks after blooms were found in the water at the popular Lochore Meadows Country Park.
And just last month, pet owner Andrea Mclellan told The Courier how her beloved dog Benji died after being poisoned by blue green algae in the Lady Burn near her home in Cupar.
Heartbroken dog-owner warns of algae in Fife burn following death of beloved pooch
Fife dog owner left heartbroken after beloved pet dies following dip in local pond
In a statement, NHS Fife said: "The risk posed by blue-green algae to small animals like dogs is significant over the summer months as they tend to drink more water in the heat and may eat shoreline algal crusts.
"Where applicable, dog owners should prevent their pets from coming into contact with water which could be affected.
"Fish caught in waters affected by blue-green algae should not be eaten and should not be fed to pets.
Surface of Perthshire loch turns blue as toxic algae, harmful to humans and animals, appears
"Public water supplies are monitored and treated to prevent harmful effects to health due to blue-green algae."
Fife water courses are being regularly monitored by environment officials for blue-green algal blooms, and signs are being erected where appropriate.
Checks are being carried out at Stenhouse Reservoir, Cowdenbeath Community Woodland Ponds, Clatto Reservoir, Craigtoun Park Ponds, Tayport Common Pond, Tarvit Pond, Peppermill Dam, Keir Dam, Bellknows Pond, Raith Lake, Beveridge Park, Jamphlars Pond, Glenrothes Park Pond, Coull, Kinghorn Loch, Town Loch, Loch Ore, Loch Gelly, Loch Fitty, Lindores Loch, Black Loch Newburgh, Birnie and Gaddon Lochs, Golden Loch, Kilconquhar Loch, Newton Farm Loch Wormit, Moor Loch, Black Loch nr Dunfermline, Tollie Hill Loch, Otterston Loch, Dunearn Loch, Silverbarton Hill and Camilla Loch.