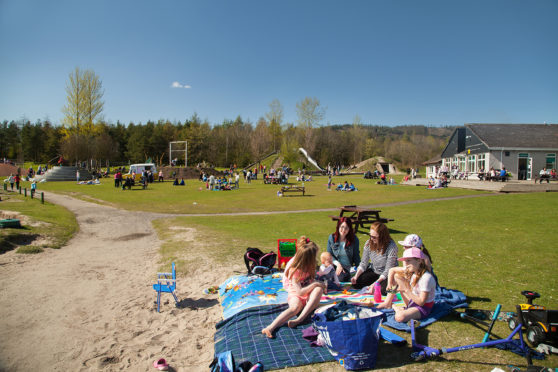 A Fife park could be turned into one of Scotland's top tourist attractions under new plans being drawn up.
A pre-planning application has been submitted to Fife Council that could pave the way for up to 80 holiday lodges, a café, office, retail space and other amenities on land to the north of Lochore Meadows Country Park's western access.
The notice is seeking permission to convert an agricultural shed on the Kelty side of the park.
It has been lodged by landowner W Thomson and Sons and will not be on land owned by Fife Council, which runs the 1,200 acres 'Meedies' next door.
More details have been promised over the coming months, and it is understood a pre-application public consultation is being organised virtually for the middle of August to give members of the public a chance to learn more about the proposals.
Lochore Meadows welcomed a record 835,884 visitors in 2018. More than 350,000 of those visits took place between May and August, and a total of 91,909 cars entered the car park in that four-month spell.
However, that figure pales in comparison to numbers for the likes of Strathclyde Country Park, which reportedly saw 5.4 million visitors last year.
The proposals were welcomed by Tom Kinnaird, from Benarty Community Council.
He said most of the Friends of Lochore Meadows Country Park, which was set up to provide support, ideas and funding to enhance the area, had previously been in favour of a visitor centre, café, toilets and additional parking at the Kelty side of the Meedies.
"A lot of visitors can't make it all the way around in one go so this will benefit them and the park I think," he said.
"We'll also see what we could have had with the retail aspect included and what a proper functioning, modern café looks like.
"It will bring more visitors into the park, walking, cycling, fishing etc, so it can only be a good thing as far as I can see."
A spokesperson for local regeneration and employment group Brag Enterprises said the development would bring tourism and income to the local economy, describing the chosen site as an "ideal" spot.