Hospital workers' cars wrecked and landslide at caravan park after apocalyptic storm batters Fife
By
Aileen Robertson
August 12 2020, 8.00am
Updated: August 12 2020, 2.00pm
Hospital workers in Kirkcaldy clocked off to find their cars underwater as storms battered Fife throughout the night.
Torrential rain and relentless thunder and lightning meant a sleepless night for many in the area, including holidaymakers at Pettycur Bay Holiday Park, which was evacuated after a landslide.
At Victoria Hospital in Kirkcaldy, staff vehicles parked in the car parks near Lauder Road and Yetholm Way became submerged in water.
Cars suffered extensive damage after being carried away by the flood.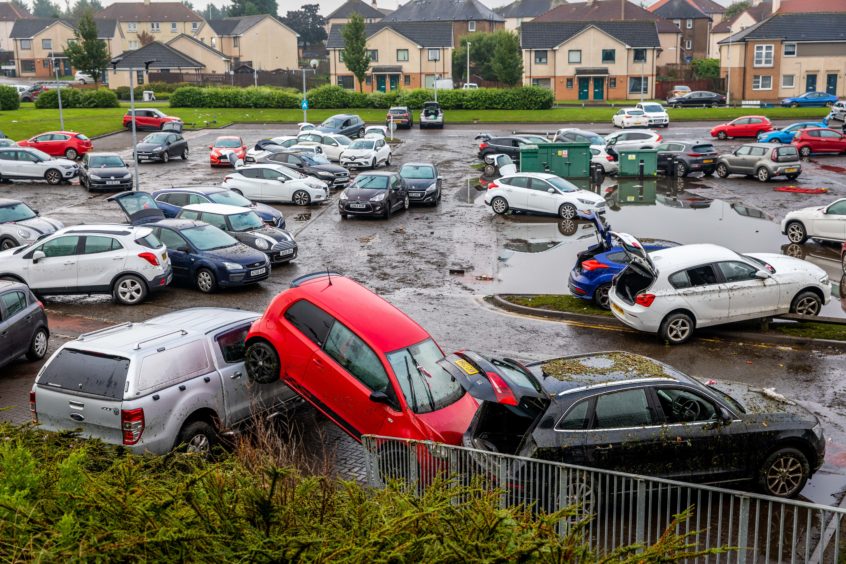 NHS Fife chief executive Carol Potter thanked local businesses, including Bay Travel, who had come forward with offers of help for stranded staff.
"My heart goes out to those staff and patients who have returned to find their vehicles damaged following flooding as a result of last night's thunderstorms," she said.
"Our resilience team along with our colleagues in Police Scotland and Scottish Fire and Rescue have been working throughout the night to help those affected and we have been overwhelmed by the offers of support from local companies to help our staff get safely home this morning after their night-shift.
"The Victoria Hospital is still operating as normal with car parks A and B out of action. This will impact on parking availability across our Victoria Hospital site. On this basis I am encouraging those colleagues who can work from home today to do so and those that have to travel in to consider car sharing or public transport to ensure some car parking capacity for those patients attending hospital today."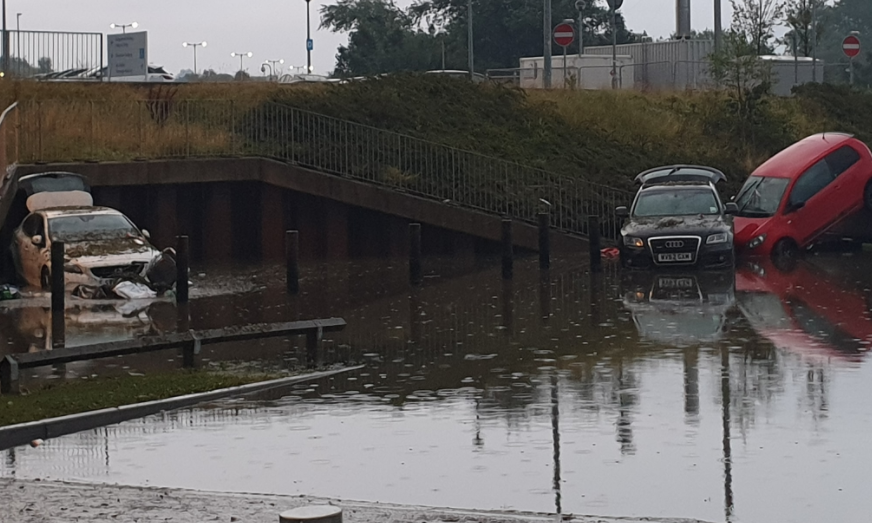 At Pettycur Bay Holiday Park in Kinghorn, caravans were evacuated after a landslide.
A total of 27 people were rescued by fire crews and 218 people had to be relocated after 450 mobile homes on the site were affected.
A spokesperson for Police Scotland said emergency services were called to the holiday park at around 11.35pm on Tuesday.
"A landslide had blocked part of the railway line in this area and has also caused the closure of A921 between Kinghorn and Burntisland," said the spokesperson.
"A number of properties on site have been evacuated as a safety precaution while emergency services can survey the damage in the area.
"No one has been injured during this incident.
"Police are urging motorists to avoid the area if at all possible while emergency services work to reopen the road."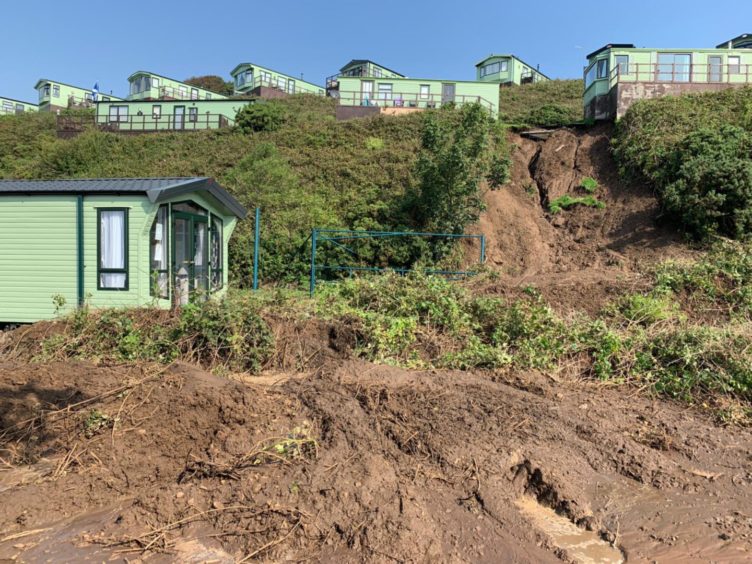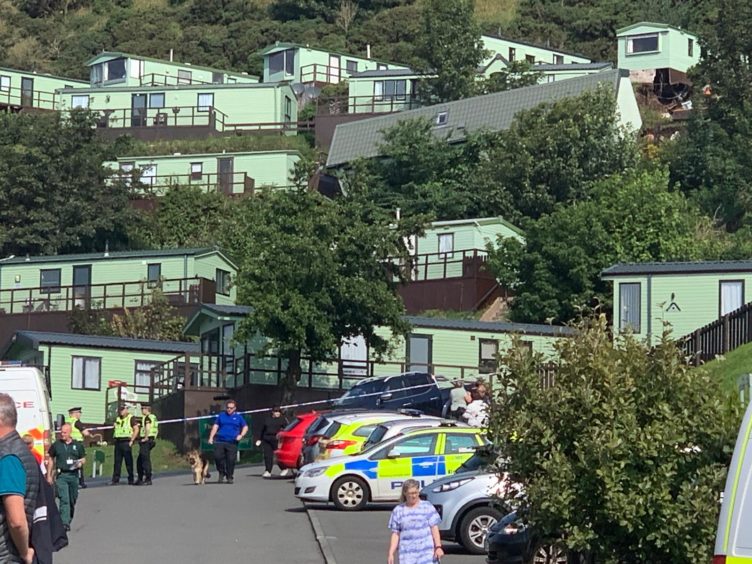 Some householders saw their properties flooded as drains struggled to cope with the deluge.
Flooding was reported across the region, with many roads blocked off because of submerged carriageways.
Still a lot of road closures in place across #WestFife. If a road is closed off with signage, cones or barriers then please don't ignore them. Some closures are for flooded areas only but others, like #DonibristleVillage below, are for collapsed or collapsing roads. Please avoid. pic.twitter.com/fPIj11S1sf

— South West Fife Police (@SWFifePolice) August 12, 2020
As a result, a number of schools were closed across Fife, disappointing pupils keen to return after a prolonged break during lockdown.
Just before the school bells were due to ring, it was announced that six primary schools, and most of their associated nurseries, as well as Glenrothes and Lochgelly high schools would not be reopening on Wednesday.
Scottish Fire and Rescue Service's Deputy Chief Officer Ross Haggart said: "This has been an extremely challenging night where we received an incredibly high number of calls, making this one of the busiest nights the service has seen this year so far.
"We have particularly seen high numbers of flooding calls from the Lothian, Falkirk and Fife areas which were badly affected by serious rainfall – resulting in a significant localised response from the national service.
"Crews also attended a number of other serious incidents including road traffic collisions and fires which may have been caused by the weather.
"My thanks must go to our crews and operations control for their outstanding work overnight in very challenging conditions, and to our partners for their continued assistance."
In Aberdour, there was damage to the coastline at the harbour.
A bridge on the footpath gave way and there was significant erosion at the Black Sands.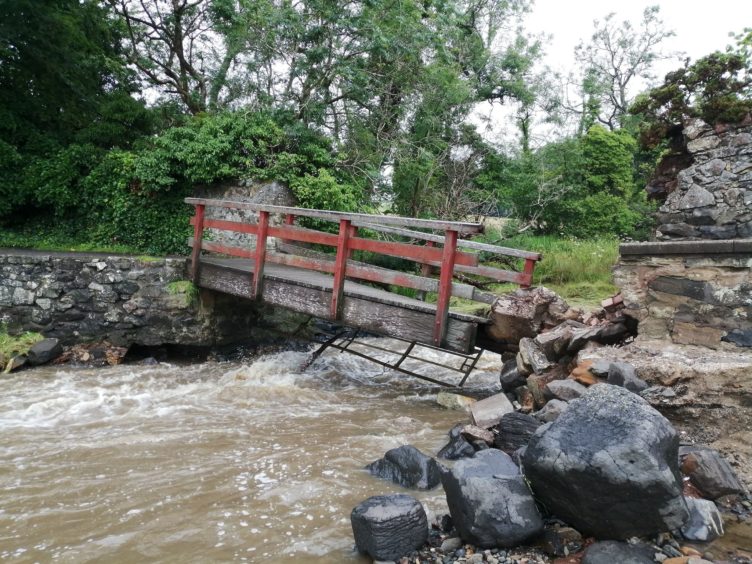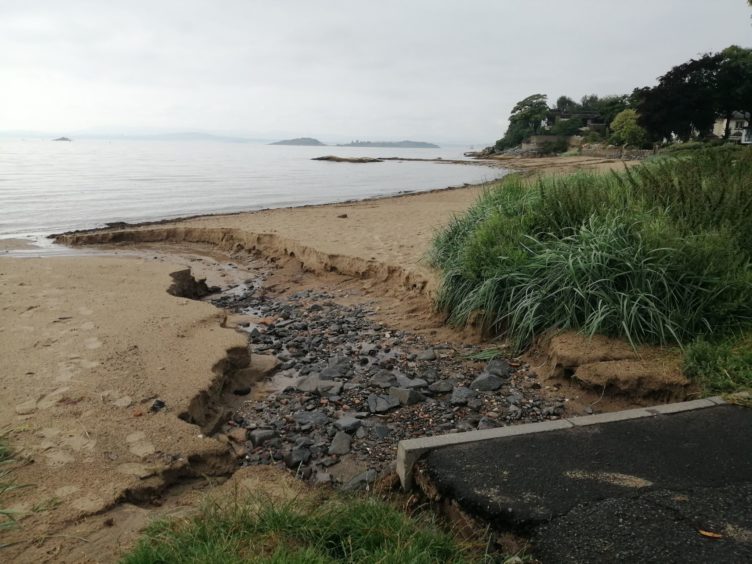 The Fife Weather website, which provides real time lightning detection, shared a map of strikes across the UK, showing the extent of last night's storm.
Insane lightning detection rates just now! pic.twitter.com/Y439Jd9QO3

— FifeWeather.co.uk (@fifeweather) August 11, 2020
And STV meteorologist Sean Batty said Glenrothes suffered the worst of the rainfall across Scotland, estimating that the amount of water which fell on the town would have filled eight Olympic swimming pools.
A wee fact for you. Glenrothes was one of the wettest parts of Scotland last night with an extraordinary 106mm of rain. If we presume the whole town had the same & collected it there would be 20 million litres of water. Enough to fill 8 Olympic swimming pools or 200,000 baths!

— Sean Batty (@SeanBattySTV) August 12, 2020
The A92 at Glenrothes suffered severe flooding and the town centre was also affected.