Fears severe weather will cause more sinkholes to open up in Benarty after path collapse
By
Aileen Robertson
August 18 2020, 8.02am
Updated: August 18 2020, 9.43am
Benarty residents fear severe weather could cause more sinkholes to open up in the area.
Residents in Ballingry were among many across Fife whose homes were flooded when torrential rain and thunderstorms hit the area in the early hours of Wednesday.
The flooding caused a path off Kirktoun Park, which is used by schoolchildren, to collapse.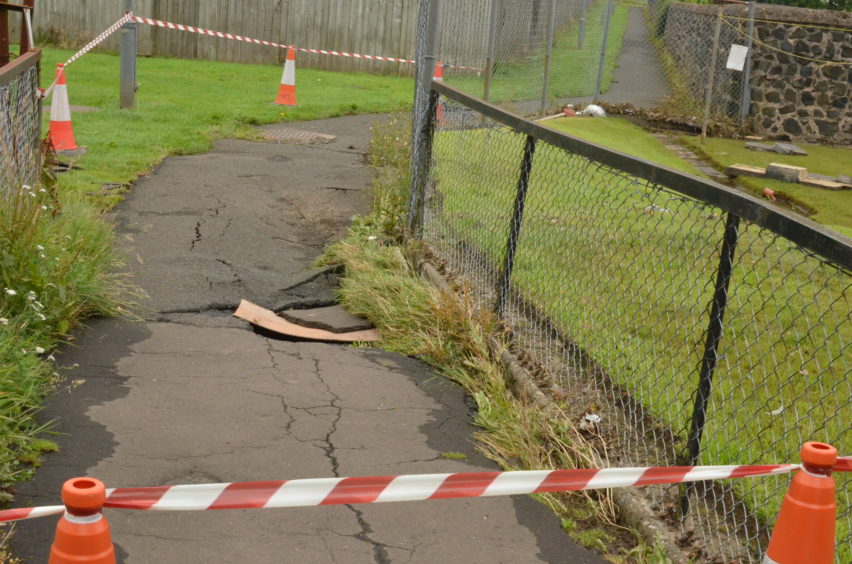 Tom Kinnaird, who chairs Benarty Community Council, said the combination of severe weather, ageing sewers and unstable mine shafts means there is a continued risk.
He said: "Previous assumptions that these historic mine shafts have all stabilised is proving to be wrong and I think the connection between these storms, the mismanagement of water running off Benarty Hill into the villages, the poor condition of our 70-year-old combined sewer and drain network and these unstable mine shafts is creating the conditions which lead to ground movement and sinkholes."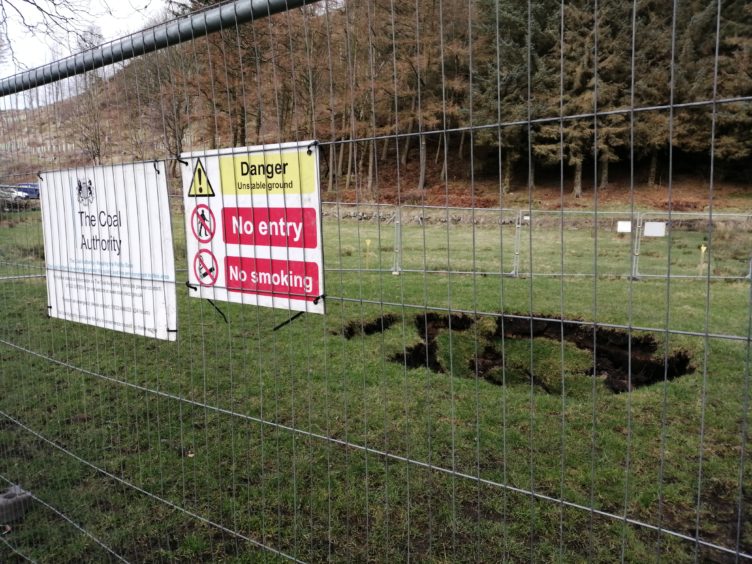 Old mine workings cause giant sinkhole to appear in Fife field
In March, a 60ft sinkhole opened in a field to the west of Ballingry. Three years ago a back garden in the town's Kirktoun Gardens collapsed and in 2018 a sinkhole opened in Gordon Street, Lochgelly.
Residents say a culvert which carries the Lochty Burn, which rises on Benarty Hill, underneath the town of Ballingry, is contributing to the problem.
Downstream, the Lochty Burn caused havoc in Kinglassie on Wednesday when its banks burst, flooding nearby homes.
Mr Kinnaird said: "We can't wait any longer so I have asked our MSP, Annabelle Ewing to seek an inspection of the Lochty Burn culvert which I believe is either damaged, blocked or just incapable of carrying the volumes of water coming off Benarty Hill in recent years.
"We, as a community, shouldn't have to set all this in motion but Fife Council and Scottish Water don't see it as their duty or responsibility.
"The community have long complained to the authorities but nothing is ever done."
Sara Wilson, lead consultant for Fife Council, said the footpath will be repaired as soon as possible.
Navitie Park resident Laura Spence said the water in her garden was two-feet-high during last week's storms in the third flood since she moved in a year ago.
She said: "It's starting to damage people's homes and it's not fair. They need to do it properly and not just a patch up."
A Scottish Water spokeswoman said: "We are aware sinkholes have appeared in this area which the Coal Authority has taken charge of repairing.
"Scottish Water assists with CCTV investigative work if there is suspected damage to our network which we would then repair. Currently, we are not aware of any issues with any of our assets in Ballingry."