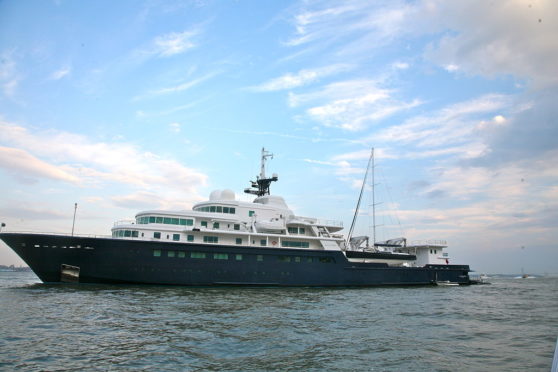 One of the world's largest superyachts, said to be worth more than £135 million, has dropped anchor in the Firth of Forth.
Le Grand Bleu, which boasts two helipads and carries several extra boats on board, arrived off the Fife coast on Wednesday and was there for much of Thursday.
Thought to be the 36th largest privately owned yacht in the world, the 370-foot vessel was initially built for US telecoms baron John McCaw before being sold to Chelsea FC owner Roman Abramovich.
The Russian oligarch had it refitted to his own preferences, with the addition of a 16ft swim platform at the stern, although it is rumoured he lost the yacht in a bet to his friend and business associate Eugene Shvidler in June 2006.
It has a crew of 65 and features an extensive below-deck garage, where there is a large aquarium.
Her watercrafts include: a 22-metre Dubois-designed sailing yacht; Bellatrix – a 21-metre Sunseeker motor yacht; two 110-metre, 60-knot Buzzi sports boats; and a landing craft to carry a 4×4 Land Rover used for excursions ashore.