A Fife girl who is becoming a sign language celebrity is branching out by helping to teach the world to sing.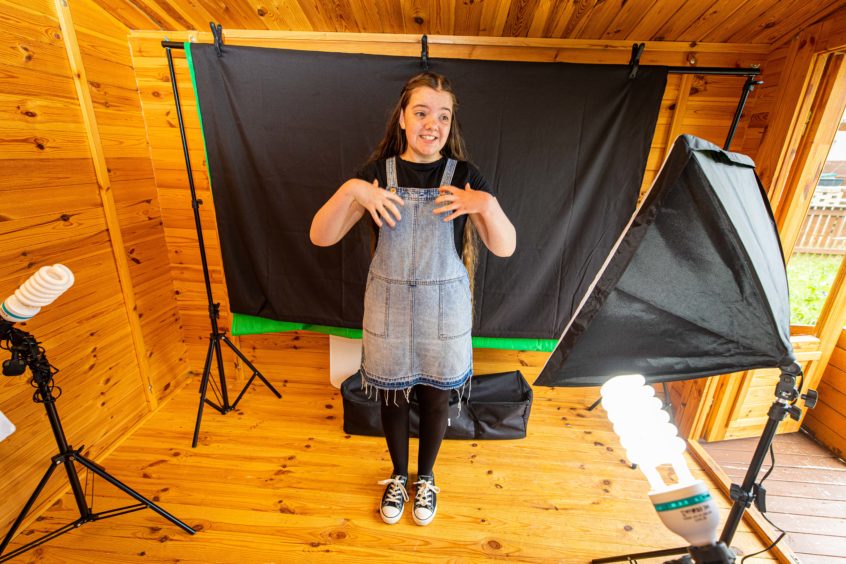 Layla Cooke, from Windygates, teamed up with the National Deaf Children's Society to hold eight Zoom workshops for deaf youngsters aged eight to 15 earlier this month.
In the sessions, she taught participants how to sign a number of popular songs including Little Me and Don't Give Up On Me.
The 15-year-old's talents came to light last year when she taught pop singer Lewis Capaldi how to sign Happy Birthday. She also signed for the Red Hot Chilli Peppers during three shows in Scotland.
VIDEO: Fife schoolgirl who taught Lewis Capaldi sign language performs with Red Hot Chilli Pipers in Dundee
Layla – who has been learning sign language since her hearing started to deteriorate at the age of five – won an Outstanding Achievement award from Enable Scotland and was given a motion of congratulations from the Scottish Parliament in 2019.
She said the signed song sessions were amazing.
"I loved every second of it and I am so lucky they asked me to do it. The best thing about it was seeing the end results and everyone enjoying it," she said.
"It was so emotional to see the young ones learning the song in their own time and doing the signs all by themselves at the end.
"The staff were so lovely too. They were amazing at learning the signs and signing along."
VIDEO: 'I was speechless': Fife sign language star's shock as Dundee singer Be Charlotte turns up for gig in her living room
In December, Layla received a grant from the National Deaf Children's Society's Make a Change fund, which aims to raise awareness about deafness and break down communication barriers for deaf young people in the community, to set up her LC Academy.
It started in February this year, with the aim of teaching signed songs and running weekly sign language classes for both deaf and hearing young people.
Kerry Ross, roadshow manager at the National Deaf Children's Society, who organised the workshops, said: "This was a first for us but we had no need to worry as Layla was fantastic at teaching the signed songs.
"We all had so much fun learning the songs with Layla and finding out about how she had used the money from the Make a Change fund to set up her own signed song academy.
"It really inspired the young people who came along to the sessions and lots of them now want to apply to the fund to set up signed song groups in their own schools."