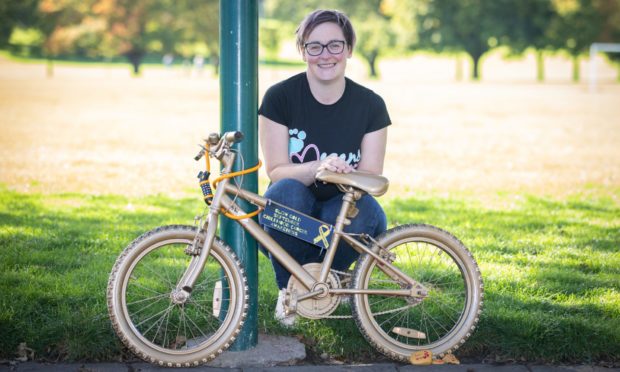 A bereaved Fife mum is determined not to let vandals get in the way of her potentially life-saving childhood cancer campaign.
For the second year, as part of the Glow Gold September campaign, Kelly Clarkson is placing gold bicycles around her home town of Kirkcaldy in memory of daughter Megan, who died in January last year days before her third birthday.
Megan had been diagnosed just three weeks before her death with a rare form of lung cancer.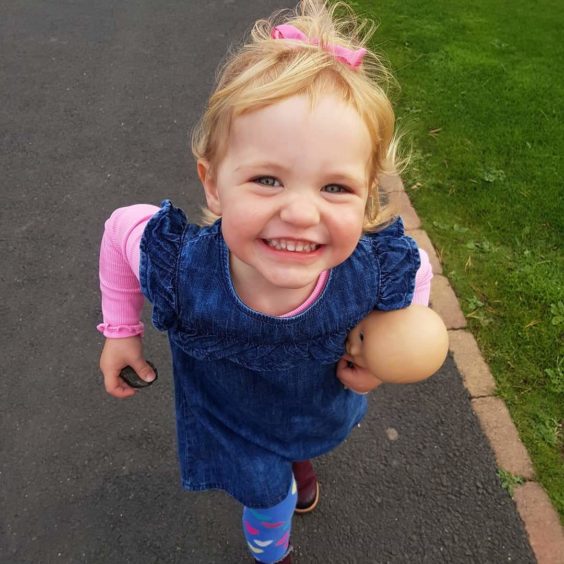 Glow Gold September is raising awareness of the symptoms of childhood cancers, with the aim of ensuring more sick children are diagnosed early, when chances of successful treatment are higher.
The golden bicycles are a poignant symbol of lost childhoods.
Heartless vandals have already struck, with the gold bicycle in Riverside Park, Glenrothes, removed and thrown into a river, despite being chained up.
"It's a minor setback," said Kelly, 39, who was determined not to let the incident detract from the campaign's main message.
"We were aware that Megan was ill for a while, we just couldn't piece it all together. Education of those early symptoms could help you in that fight.
"We all know what to do if we see symptoms of meningitis. We all know what the symptoms of meningitis are, but we don't know about childhood cancer.
"Second to accidents, it's the biggest medical killer of children. It's horrific that we don't know the symptoms. And the earlier you catch it, the better chance you have."
According to the Children's Cancer and Leukaemia Group, childhood cancer can be difficult to spot but the symptoms to be aware of are persistent infections, sweating or fever particularly at night, bruising or rashes, aches and pains that do not go away, lumps and swellings, blood in urine or faeces, headaches, coordination problems and weight loss or slow growth.
"Combined together they could signal, and it's not to say they would signal, it could signal something nastier lurking," said Kelly.
She said the campaign had particular importance this year because restrictions to prevent the spread of Covid-19 meant fewer people were having face to face consultations with their GP.
"Parents just have to be that bit more vigilant and on the ball, and if they are worried, they definitely should raise their concerns. But if you don't know what to look out for, you don't know to be worried.
"The chance of childhood cancer is one in 330. It's a small number but it's not a zero chance.
"It just means that parents are armed with the facts and should that event ever occur you can then go to the doctor."