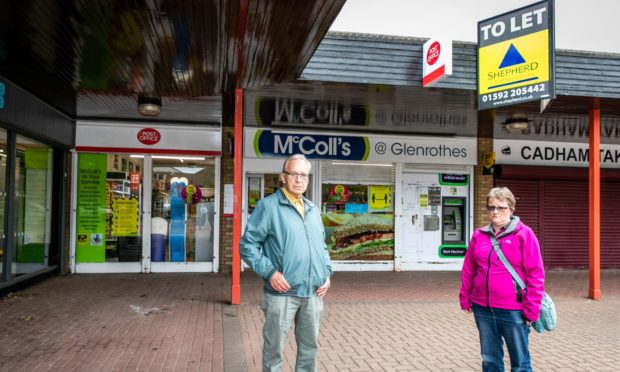 Glenrothes residents have voiced their anger over news two of its Post Offices will close for good, leaving thousands of people without a local counter service.
Branches in both the the Cadham and Glamis shopping centres in Glenrothes will close in October following the announcement that newsagent RS McColl is to axe a number of its shops, some of which also provide a vital post office service.
The Cadham closure will affect around 15,000 residents in the north of the town with the announcement bringing widespread dismay and calls for an urgent rethink.
"Its disastrous for the two communities and leaves many elderly, disabled and vulnerable people now having to travel several miles into the town centre just to post a letter, pay a bill or collect vital pensions," said Ron Page, secretary of North Glenrothes Community Council.
"People are aghast over the announcement that came without warning or any form of public engagement.
"With the dwindling number of banks and especially during such unprecedented times as we are living through right now, it's more vital than ever for elderly, frail or vulnerable people to have a post office near to where they live."
Fellow community councillor, Denise Wallace, added: "Not everyone can afford to take the bus or a taxi into town to collect pensions or pay bills, while elderly and disabled people will be forced to use the in WH Smith, post office which is up a flight of stairs.
"It's a disgraceful decision to close these counters without even a hint of warning."
Mr Page said the community council has now formally written to the Post Office to call for alternative locations to be found.
A spokesperson for Post Office said Pitteuchar Post Office will temporarily close on October 6 while Cadham would close on October 20.
They added: "We understand how important a Post Office is to a community and we will continue to work to find a solution that will provide a Post Office service to the communities in these areas.
"The vacancies are currently being advertised.
"In the interim alternative branches for Pitteuchar are Glenrothes, Coaltown and Carleton whilst the alternative branches for Cadham are Pitcairn and Carleton."
A spokesperson for McColl's said: "Having explored all options, regretfully we have taken the difficult decision to cease trading at the McColl's stores in Perth High Street, Carntynehall Road in Glasgow and in Glenrothes.
"We are saddened to no longer be operating the stores and our priority has been to support all affected colleagues."