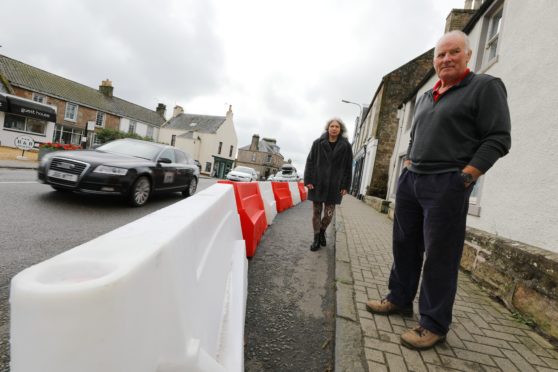 Locals in the East Neuk have lashed out at controversial changes designed to help social distancing and deliver additional space for pedestrians and cyclists.
Fife Council is pressing ahead with its Spaces for People programme after receiving £2.42 million from sustainable transport charity Sustrans to install temporary measures to make it safer for people to walk, cycle or wheel for permitted journeys and exercise.
As has already been seen in the likes of St Andrews, not everyone is enamoured with the introduction of water-filled barriers and alterations to road layouts.
Crail Community Council has become the latest group to voice its strong objections to what's happening in their village, with barriers to limit parking on High Street outside all the major shops in Crail and restrictions on St Andrews Road among the plans being pursued.
David Jerdan, community council chairman, says the measures are being introduced without consultation with community representatives or local tradespeople.
"Parking is already very difficult in Crail, and the partial implementation of this plan has already resulted in restricted traffic movement (hindering bus movements, for example, and farm traffic) – this will only get worse.
"In addition, there is real concern amongst local tradespeople that this initiative will materially affect their businesses, and will present major problems for delivery vehicles that will further add to traffic problems.
"There appears to be no consideration for disabled parking or access and the partial implantation of the plan on St Andrews Road takes no account of pedestrian flow or traffic flow, and serves no purpose.
"The community council believe this to be a very ill-considered initiative that will not improve public safety by increasing the capacity for effective social distancing but may in fact increase traffic problems and raise road safety issues."
Fife Council has stressed  road layouts can be "tested and tweaked where necessary" should problems arise but remains "committed" to creating additional space for pedestrians so they can physically distance for the foreseeable future.
However, local independent councillor Linda Holt has called for a rethink and the barriers to be removed.
"There is a certain irony that an initiative entitled Spaces for People has treated people with such contempt.
"Fife Council have had months to consult communities and business-owners about what measures are needed, but a lack of manpower and poor management has resulted in ill-thought-out, top-down measures being imposed willy-nilly.
"This wastes time, money and more importantly the good will of communities. Fife Council need to get a grip – fast."