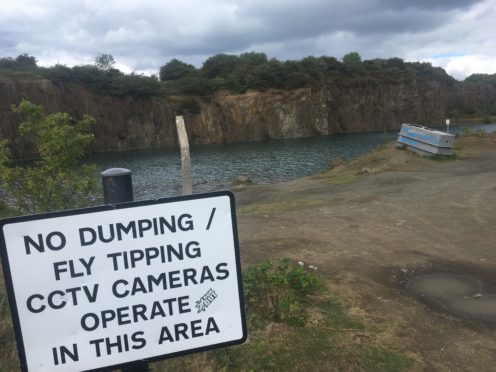 Plans are being drawn up for the construction of 180 new homes and luxury log cabins at a notorious Fife quarry.
The plans are for Prestonhill quarry at Inverkeithing, which claimed the lives of three young people between 2014 and 2017, leading to calls from bereaved families for the water flooded crater to be filled in.
They are being led by developers DDR (UK) Ltd. So far there are few details about the proposal, other than it is likely to comprise 135 newbuild homes and 45 housing association properties.
The site has been the cause of safety concerns, most recently after young people gathered there in breach of social distancing rules.
There is also demand for the quarry to be retained as a diving area, and the site is regarded as valuable for training purposes.
The developers have submitted a screening request, which will determine if an environmental impact assessment is required.
It is understood they plan to withdraw this and resubmit a fresh request to take into account the potential for the holiday chalets to link with recreational facilities at Letham Hill Woodland.
Access to the site, if the plans go ahead, is likely to be from Preston Crescent and a new road to the north of Preston Crescent.
Local SNP councillor David Barratt, who will not be involved in any decisions on the plans, spoke to the developers earlier this week.
He said: "I met with the prospective developer of Prestonhill Quarry to understand what direction proposals were going in and to highlight areas of concern for the local community.
"I emphasised first and foremost the need to make the site safe but also the legitimate concerns around access and transportation, the need to protect and enhance the coastal path, the potential impact on the natural environment, the need to work with the residents in Preston Terrace and the wider community, and the need to protect and enhance access to open space.
"I welcome the willingness of the applicant to engage in this way and hope that along with discussion with the community, proposals can be shaped by local views prior to submission of a planning application."
However, Mr Barratt said he had "reservations" about the number of new homes planned.
He added: "I'm encouraged by other aspects. I look forward to seeing more detail and approach it with an open mind.
"The idea of making greater use of Letham Hill Woodland is an interesting one and sounds like it has the potential to be something very positive for the area. Improved woodland walks? A high wire course? Zip-wire? Mountain biking? A lot is possible here."