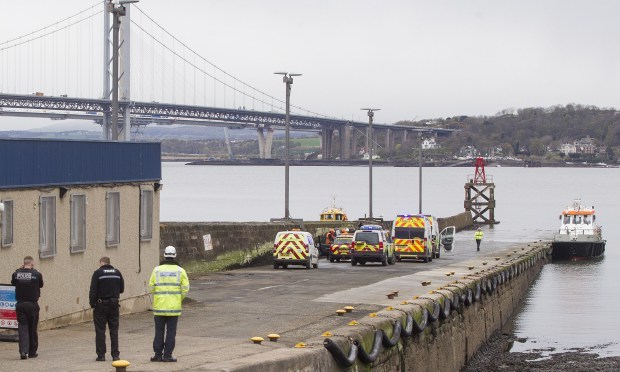 Grieving workers on the Queensferry Crossing were sent home on Friday morning after bosses closed the site in the wake of  this week's tragedy.
Workers shell-shocked by the death of John Cousins, 60, reported for duty but were sent home due to safety concerns and the emotional impact of his loss.
Following a mass meeting in Rosyth workers were told to go home, although some went on the bridge to make it secure before the shut down at 1pm.
The site will remain closed until Tuesday while an investigation into the incident by Police Scotland and the Health and Safety Executive continues.
When work resumes, colleagues will pay tribute to Mr Cousins, who is understood to have been struck by the moving boom of a crane on the north tower deck.
Rumours of a walkout were quashed by Transport Scotland and UCATT, the union which represents many of the employees.
A project spokesperson said: "Following the loss of a colleague yesterday there remains a deep sense of shock and sombre reflection.
"The construction site was open this morning to allow colleagues to come together and support each other.
"Everyone on the site has been deeply affected by this tragedy and specialist support is being made available for anyone who needs it.
"The construction site will close from 1pm today and will remain closed until Tuesday morning.
"The return to work will start with a mark of respect for our lost colleague.
"An investigation into the incident is ongoing."
A spokesperson for construction workers union UCATT said: "There was a mass meeting with the workforce this morning and there were still safety concerns and the workers were deeply affected by what happened yesterday.
"The managing director decided to close the site today and the workforce was sent home."
Mr Cousin's death was the first since construction of the £1.35bn Forth crossing began in 2011.
He was transferred by boat to Hawes Pier, in South Queensferry, then to a waiting ambulance but could not be resuscitated.
A second man was hurt in the incident which happened shortly after midday but his injuries are not believed to be serious.
Workers had just taken part in a minute's silence to honour fellow workers around the world who have died, during International Workers' Memorial Day.
The crossing is being built by the Forth Crossing Bridge Constructors consortium, with 1,200 currently working on site although more than 10,000 have been involved at various stages of the construction process.
It is due for completion in December.