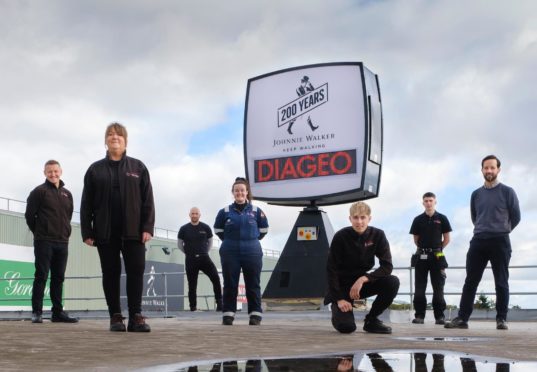 Apprentices at drinks giant Diageo's facility in Leven have restored the site's iconic spinning clock to commemorate the 200th anniversary of the company's Johnnie Walker whisky.
The clock had been a landmark on the Windygates Road since 1999 but fell into disrepair several years ago.
It was rediscovered and a team of engineering apprentices collaborated to restore it to its former glory.
Third and fourth year apprentices Kyle McLean, Euan Simpson and Danielle O'Sullivan led the restoration efforts, working closely with contractor, FCE Group.
Over the last year, the team of apprentices managed the project, scoping what was salvageable, timescales, a production plan, technological assessments, cost analysis and hands-on engineering.
Jason McEvoy, engineering manager at Diageo, said: "The work that the apprentices have put in to reinstate the iconic spinning clock is fantastic.
"They gained exposure to many things, developing their hand and machinery skills, building a network of contractors and engineers, and managing a project from start to finish.
"The team handled the restoration with the care, craft and ingenuity required of our engineers.
"I'm so proud of what they've achieved and thank them and FCE Group for their hard work to make the project a reality."
As an outdoor electrical installation, there were unique challenges for the apprentices to overcome.
The clock had to be protected from lightning and wind damage, and also had to be waterproofed and earthed.
As well as the fluid clock mechanism, the apprentices had to consider lighting, the temperature probe and programming the digital display.
Once the work was completed, the clock was proudly restored to its former glory and switched on by the longest-serving employee, Lorraine Johnstone, who has served 42 years and eight months in the packaging team.