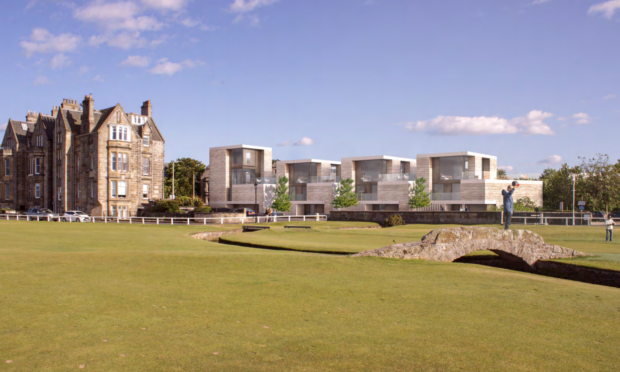 A contemporary housing development that would have dramatically changed the backdrop to one of the worlds most iconic sporting locations has been rejected after critics labelled it a carbuncle.
Councillors claimed the "millionaire's palace" close to the Swilcan Bridge on St Andrews Old Course would be massively out of keeping with the surrounding traditional buildings.
The 700-year-old stone bridge between the first and 18th fairways is one of the most photographed spots in Scotland, with golf fans visiting from across the globe.
It is overlooked by a 1960s-built house, which the owners had applied to demolish and replace with four modern town houses designed by award-winning architects.
Fife Council planners had recommended approval of the bid, which provoked a mixed response in the town, before it was turned down by councillors.
Supporters included St Andrews Preservation Trust, which said the design of the three and four-storey homes was inspirational.
However, there were 38 letters of objection, including from the community council which said the proposed buildings were not typical of St Andrews nor of the conservation area in which they would stand.
Environment watchdog Sepa and the council's own flooding, shoreline and harbours service also objected on the grounds the homes' design would increase the risk of flooding nearby, although planning officers said it would not have a significant effect.
Members of north east Fife area committee unanimously rejected the application on the grounds of both its visual impact and the perceived flood risk.
Conservative councillor Tony Miklinski branded the proposal "literally quite shocking".
"It would be right next to the Swilcan Bridge and I do have a concern that it really does not fit in with the kind of buildings around it," he said.
He added that if the development were built the reaction of many people would be: "What kind of numpties approved that?"
"This would have a detrimental impact on an iconic site which people expect to be sitting in an appropriate architectural environment, not overlooking a millionaire's palace," he said.
SNP councillor David McDiarmid said the modern houses would jar with the neighbouring red sandstone buildings.
"It looks to me like another carbuncle," he said.
"It's virtually on the Old Course. It's like building on Culloden."
Many councillors expressed fears over the flood risk, with Liberal Democrat Jane Ann Liston stating: "It does not seem to be a clever place to be building houses at all."
Labour councillor Brian Thomson added that the risk made approval "inconceivable".