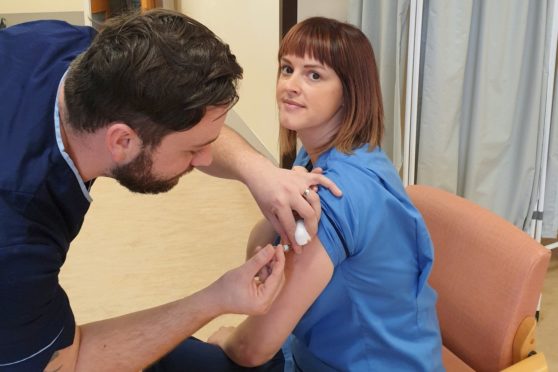 A new snag with Fife's flu vaccination programme has come to light after health chiefs conceded it was having difficulty responding to text message requests for the jabs.
NHS Fife insisted this week it is making good progress in getting through the appointment backlog after phone lines were initially swamped by demand earlier this month.
NHS Fife makes 'good progress' in clearing flu jabs backlog after phone line chaos
Around 50,000 flu jabs are expected to have been carried out by the end of October and the health board is now on track to meet that target, with more than 42,000 over-65s in the region have given appointments and around 30,000 vaccines already delivered.
However, Fifers who have tried to book their appointment by text message – one of the options said to be available – may be facing a lengthy wait.
After being told in a meeting NHS Fife is "unable to respond" to all the text messages received regarding flu vaccination requests for over-65s, managers at Kelty Medical Practice have urged anyone who sent a text and is waiting for a reply to now telephone to arrange an appointment instead.
Fife's health and social care partnership has denied the suggestion it cannot respond but admitted processing text requests has been slower than anticipated.
Nicky Connor, director of Fife's health and social care partnership, said: "Everyone who has enquired about flu vaccination via text message and is eligible for it will receive an appointment. Eligibility can be checked on the NHS Inform website.
"We continue to process text message enquiries, although those who have duplicated their texts with phone call or email enquiries may be contacted via one of their other routes of communication.
"We continue to work our way through a significant number of text messages and have already arranged over 1,300 vaccination appointments via this route.
"However, due to the volume of texts we have received and the challenges that this can bring, responding to enquiries via this medium has been slower than we would have liked."
NHS Fife had to apologise last month when it was swamped with an avalanche of enquiries following a 75,000-letter mailshot to the kingdom's over-65 population.
Only eight call handlers had been employed to cater for the demand. A review was ordered and the contingent of call handling staff was increased to eight to 80.