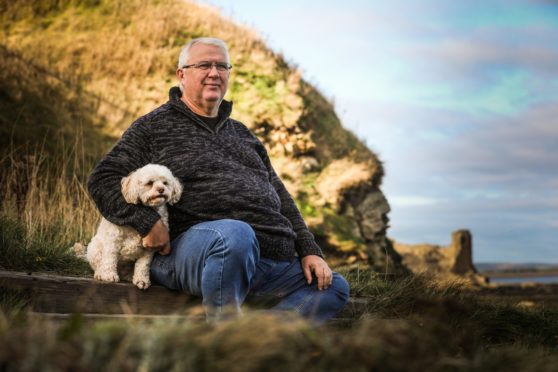 A St Andrews man has said his final resting place will be ruined if plans for a "monstrosity" shed and fuel tank at the town's harbour go ahead.
Ian Barnett, 57, plans to have his ashes laid to rest at the popular beauty spot and said the proposals will ruin the iconic view, near the town's historic pier.
"My dog's ashes are there and it is in my will that my ashes will go there," said the retired airline pilot.
"We can't let this happen. Over the summer, the harbour has been inundated with people.
"If you walked down from town, the first thing you're going to see is this fuel tank monstrosity."
St Andrews Harbour Trust has said a new shed and fuel tank are needed to provide facilities and storage space vital to the operation of the harbour.
There was previously a shed at the site. However, it has long since been dismantled.
The new shed would contain toilet facilities for the harbour master and staff as well as storage space for safety equipment, which the trust said it is legally required to have on site.
Mr Barnett said other town residents are also opposed to the plans and argued the diesel tank is unnecessary because fishing boats at the harbour use petrol.
Andrew Whiston, chairman of the St Andrews Harbour Trust, said both petrol and diesel are used by boats at the harbour, and installing a petrol tank is not feasible because of safety regulations.
"We have a duty to make sure that fuel is used in an environmentally responsible and safe manner and the way it's used at the moment, in jerry cans and plastic bottles, is not appropriate in this day and age," he said.
"As a trust it would be very difficult for us to store large volumes of petrol due to the fact it's extremely dangerous."
Mr Whiston said the trust was "absolutely open to speaking to the residents".
He added: "The shed is not a new thing, it's replacing something that was there previously.
"The harbour trust exists to maintain the harbour. St Andrews Harbour is a working harbour, it has a commercial fishing fleet and it has a large leisure use and recreational boat uses. It has very old infrastructure that has been there for a very long time.
"It is extremely disappointing, when the trust are trying their damnedest to keep the  harbour going and to make an income so that we can keep the harbour going.
"One of the things the tourists and the dog walkers and the people have to understand is that we are a working harbour."