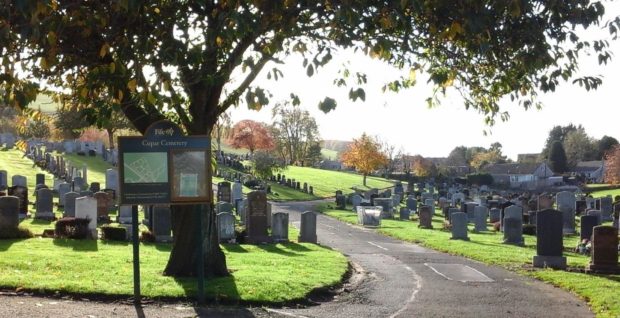 Teams of surveyors are facing a race against time to ensure safety in Fife's cemeteries amid fears a huge number of the region's headstones are failing routine inspections.
Three groups of dedicated staff are working to assess the 100,000-plus headstones currently erected throughout the kingdom, with £300,000 allocated by Fife Council to the task.
However, The Courier has learned around half of the headstones visited so far have failed their inspections, and workers are having to carry out running repairs and make them safe as they are identified.
Work has just been completed at Dunfermline Cemetery and the focus has now turned to Cupar Cemetery where inspections are being carried out this week.
Where headstones are found to require attention, the survey team say it will make them safe "as sympathetically as possible".
However, larger memorials may have to be fenced off until specialist contractors have had an opportunity to inspect them.
Liz Murphy, Fife Council's bereavement services manager, said:  "Fife Council has a duty of care to provide a safe environment in each of our 115 cemeteries and churchyards for both the public who visit them and council staff who work there.
"I would encourage local people who have kin within Cupar cemetery to get in touch so that we can keep them advised of any remedial work required.
"I would also urge members of the public to be respectful in and around cemeteries and to report any concerns regarding cemetery safety to Fife Council."
The work is being carried out after the tragic death of eight-year-old Ciaran Williamson, who was crushed by a falling tombstone in a Glasgow graveyard in 2015, prompted further examination of the issue.
A young child was injured by an unstable headstone in Inverkeithing Cemetery the following year, hastening the need for the work still further, and the subsequent survey found as many as 60% of stones were likely to be in poor condition and in need of urgent remedial action.