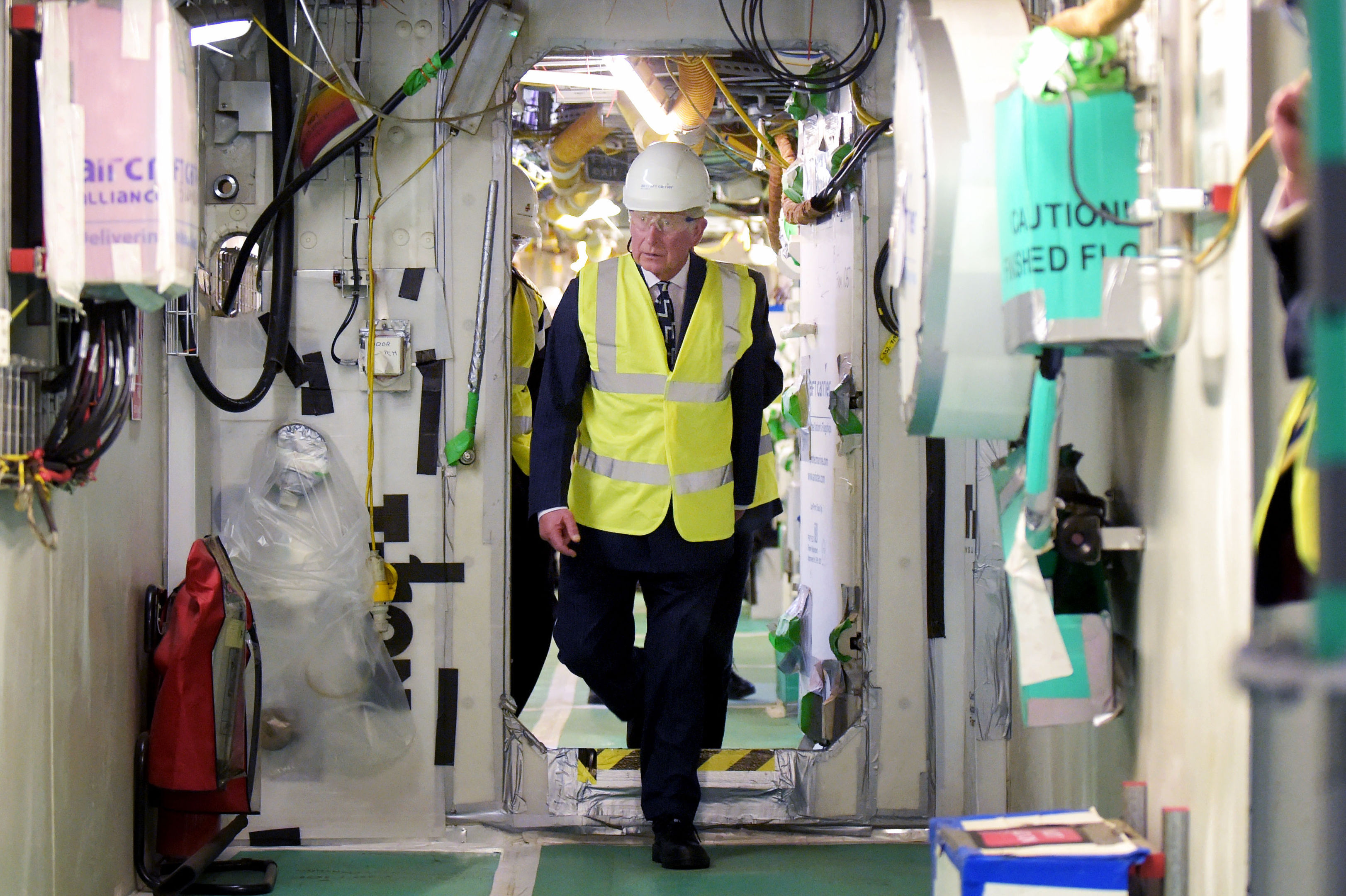 Prince Charles has paid tribute to the "skills and ingenuity" of those building Britain's new aircraft carriers.
Standing at Rosyth Dockyard upon the ship that bears his title, the Prince of Wales struck a gavel that commenced the lowering of the final section of the vessel's structure, a major milestone in construction of the Royal Navy's newest aircraft carrier.
Touring the Fife shipyard on Tuesday, the Prince met with the men and women who are putting together the warship, which will operate alongside its sister carrier, HMS Queen Elizabeth.
Joined by around 500 construction workers, as well as the ship's company for the short ceremony, the Prince acknowledged the effort required in getting the Royal Navy's new flagship to such a stage.
"It gives me enormous pleasure to join you here and officiate the formal lowering of the final section of this remarkable ship.
"It is an enormous tribute to the skills and ingenuity and efforts of so many people.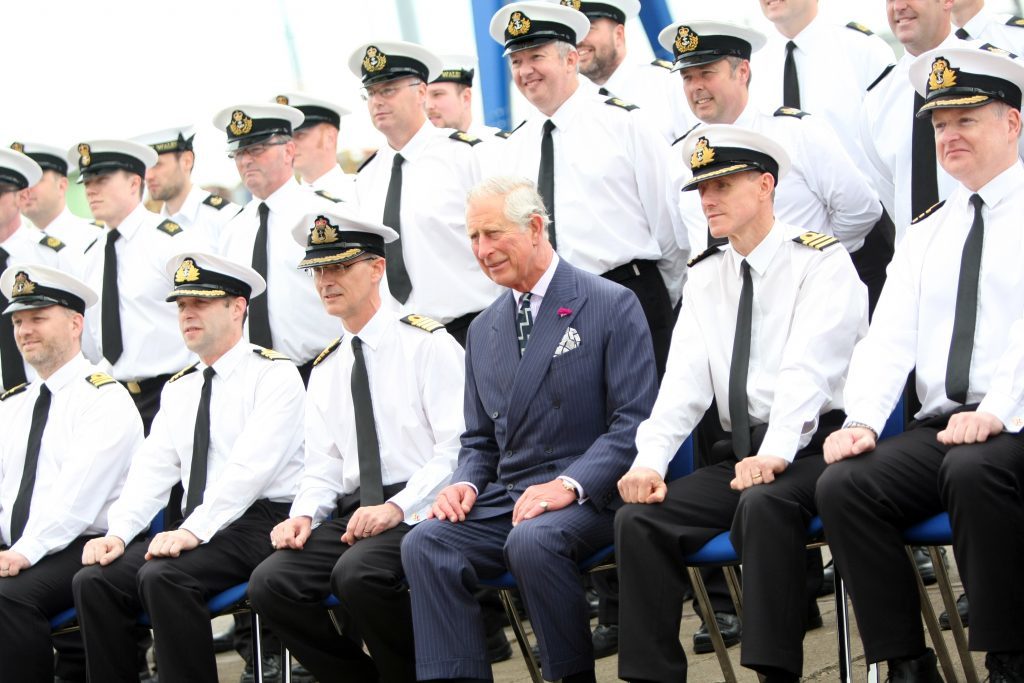 "I look forward to seeing it completed and at sea."
Tuesday's symbolic moment marked the completion of the Prince of Wales' structure, three years before the ship sets sail for the first time.
The Duke of Rothesay, as he is known on visits to Scotland, was given a guided tour of the £3.1 billion aircraft carrier as construction continues in the shadow of the new Queensferry Crossing.
The 570-tonne block – known as Sponson 11 – was the final piece of the 20-metre long warship to be manufactured and was lowered into place by the dockyard's "Goliath" crane, which dominates the skyline of the West Fife coast.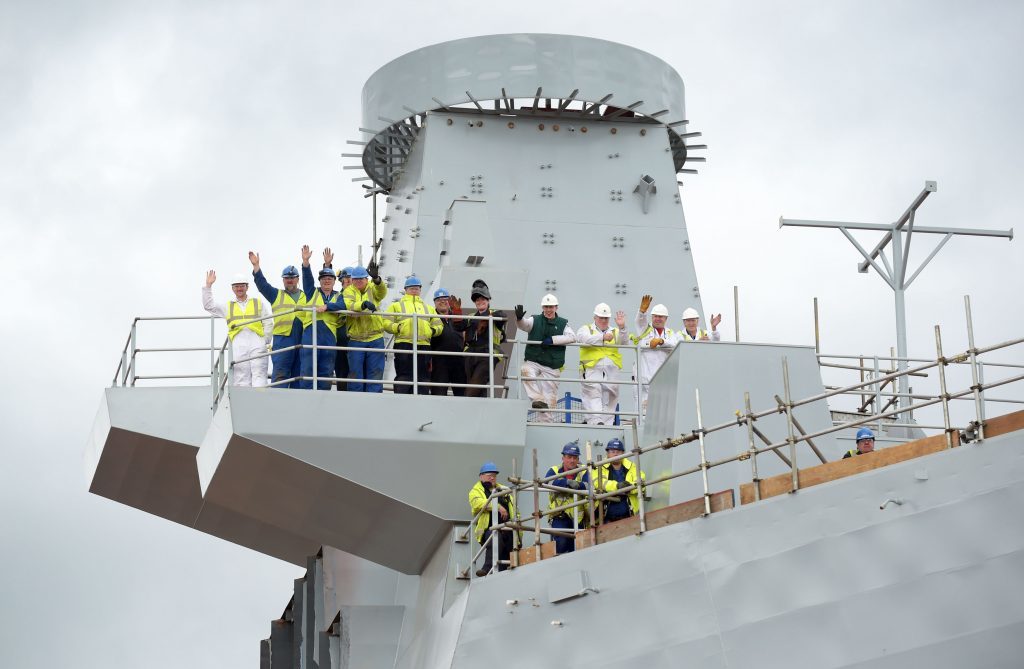 Final welding will now commence, with the vessel scheduled to be handed over to the Royal Navy in 2019, when her sea trials will begin.
The Prince also posed for a photograph with the ship's company, led by Captain Ian Groom.
He said: "Having the Prince of Wales coming to visit HMS Prince of Wales and meet the ship's company is a privilege and a historic moment as well.
"For me it is a huge honour.
"This is absolutely the pinnacle of where I could see myself sand I have not stopped smiling since I received this appointment."