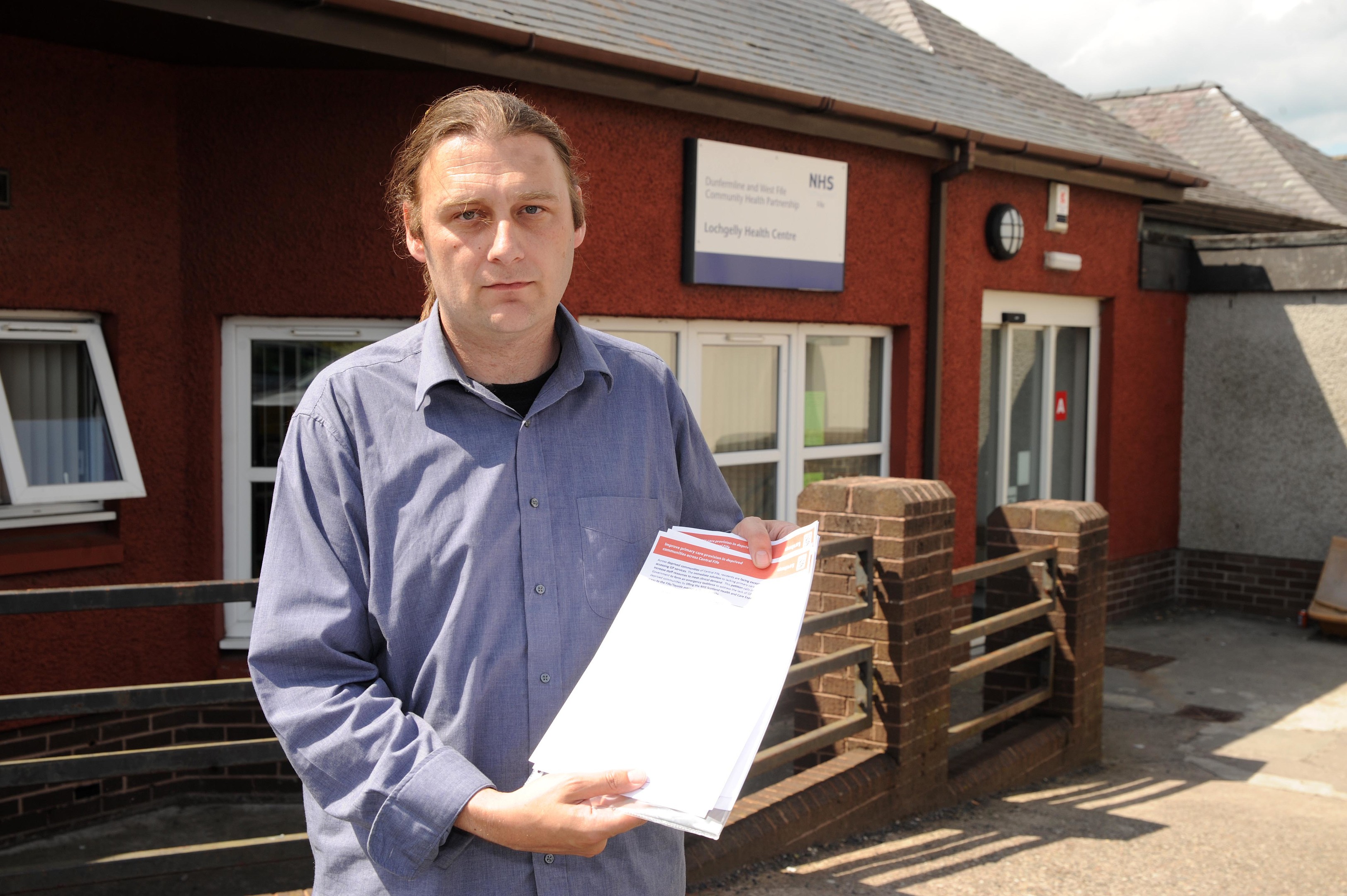 A petition has been launched demanding more GPs for the most deprived areas of central Fife.
The action was prompted by revelations that Lochgelly Health Centre rated lowest in Fife and Tayside for patient satisfaction and other practices in the area were near the bottom of the league table.
Lochgelly campaigner James Glen is to send his petition to NHS Fife, Fife Council and the Scottish Government calling for more doctors and healthcare staff to be deployed.
He said: "We've known for ages that we haven't got enough doctors in Lochgelly.
"But it was still a shock to see Lochgelly Health Centre rated the lowest for patient satisfaction for the whole of Fife and Tayside.
"And it's not a problem confined to Lochgelly. Surgeries in Crossgates, Cowdenbeath and Benarty also did very badly."
The Courier revealed earlier this month that two-thirds of people in Crossgates, Cowdenbeath and Lochgelly had difficulty contacting their surgery by phone and only a third of patients in Lochgelly reported a positive overall experience with their GP surgery.
Figures came from the Health and Care Experience Survey 2015/2016 of around 100,000 people across the country.
Mr Glen said: "The whole of Scotland is affected by a shortage of GPs, but it's hitting deprived communities in Central Fife a lot harder than more affluent places.
"If you live somewhere like Lochgelly, you're not just more likely to suffer from poor health, you'll also have a much harder job getting treated by your GP.
"Residents in these communities face a downward spiral of deprivation. Research shows that struggles to access GP services reinforce existing health inequalities which in turn reinforce long-standing social and economic inequalities.
"The gap in services between affluent and deprived areas will carry on growing unless we do something about it now."
Mr Glen's petition on change.org asks for an emergency taskforce to sort out the GP shortage in Central Fife practices with the aim of raising patient satisfaction to average level within six months.
Calls have already been made in Lochgelly for a new health centre, amid claims by the community council that the town's medical practice is too small.
A spokesperson for NHS Fife said: "NHS Fife is aware that there are ongoing issues around capacity and access to the three medical practices within Lochgelly Health Centre.
"The board recognises the importance of having timely access to health services and within its role as part of Fife's health and social care partnership will be working with the practice teams to address the matter and provide the best possible services for patients in the local area."