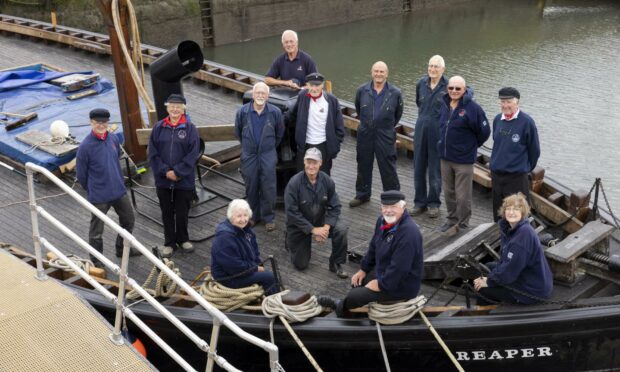 An iconic Fife ship – which has starred in Outlander – is set to welcome visitors back this week after undergoing a £1 million renovation.
The 'Fifie' Reaper, based at Anstruther Harbour, is the last of the first-class Scottish herring luggers and a survivor from the 'golden age' of sail.
Built 118 years ago in Sandhaven, near Fraserburgh, she was launched at the height of a worldwide boom for Scottish salt-cured herring.
The need to catch, gut and salt the herring inside 24 hours led to the development of luggers or drifters.
The design was inspired by Viking longships. Powered by wind alone, Fifies became the most popular fishing vessel on Scotland's North Sea coast during the 19th and 20th centuries.
---
What has the work involved?
Strengthening work to give the Reaper the strongest hull of any Fifie ever built
Addition of a new 67ft fore mast
Installation of an air compressor to power the original steam capstan
Reinstatement of crew cabins, galley, display areas and navigational aids
---
The vessel can be viewed by visitors to the Scottish Fisheries Museum from Wednesday August 4.
Karen Seath, chair of the museum's trust, said: "The Reaper is a stunning and extraordinary vessel and a significant part of Scotland's rich national maritime and fishing heritage.
"She's a rare survivor of  the golden age of sail and our booming herring industry of the past.
"The Reaper is also unusual in that, through ongoing conservation and care, she remains seaworthy and has become a striking sight at Anstruther and ports across the UK, welcoming some 180,000 people onboard to date.
'Incredible example of bringing history to life'
"We are grateful to our funders, skilled boat builders, Museum Boat Club volunteers, supporters and visitors, everyone who has made this conservation of the Reaper possible.
"It has been a true labour of love and craftsmanship and we look forward to welcoming visitors onboard during what is her first full summer in Anstruther Harbour."
Lucy Casot, CEO of Museums Galleries Scotland, said: "This is an incredible example of conservation bringing history to life, allowing visitors and residents to once again experience life aboard the Reaper and explore the rich heritage of Scotland's maritime industry."
VIDEO: 50-strong flotilla accompanies the Reaper's return to Fife town