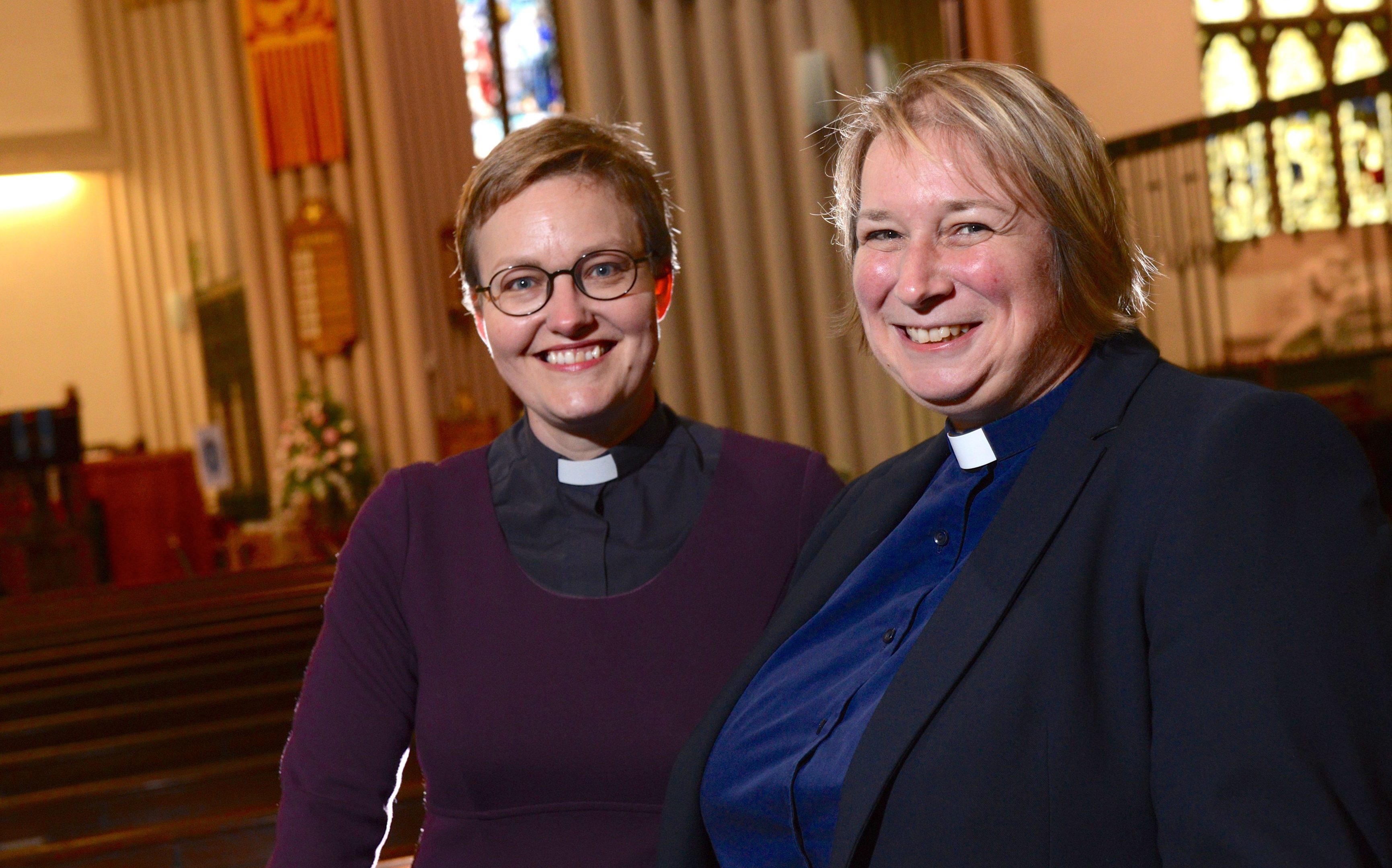 Two female ministers from Fife are spearheading a new Church of Scotland campaign that will see them take on the wedding industry head-on.
In a Scottish first, Reverend Mary Ann Rennie and Reverend Monika Redman will take up position at a wedding show to explain to couples why they should consider getting married in a "safe, sacred place", rather than non-church venues.
They said their presence at the Glen Wedding Show at Glen Pavilion in Dunfermline, which runs from noon to 4pm on Sunday, illustrates the Kirk's desire to reach out to people in different environments, promoting the wider benefits of getting married in a church.
Mrs Redman, of the town's St Leonard's Church, said people who choose to get married in churches are not only welcomed into the life of the congregation but also provided with lifelong guidance and support.
"Marriage is such a significant moment in people's lives and the church is there to ensure a life-time commitment is made better and better," she said.
Mrs Rennie, minister at Dunfermline Abbey, where people have been getting married for a millennium, said there was much more to a church marriage than having a service in a building.
"A wedding isn't just about the day itself; it's about the life that comes afterward," she added.
"So getting married in church can be the beginning of a relationship that will support you throughout your life.
"A church wedding allows you to focus on the relationship between the couple, and their family and friends—the people who will support them as a couple.
"If you get married in a church, you then may want to share your joy by bringing your baby to be baptised and to count on your church family as you go through more difficult experiences in life, such as losing a job, or when a family member dies.
"Those relationships are what count and you strengthen them when you make that first encounter through your church wedding."
Mrs Rennie said she was looking forward to the wedding fair and starting conversations with couples.
"Our feeling is that many people do not realise that churches like to do weddings and ministers are friendly," she added.
"We have become almost side-lined in the midst of all of the preparations and we want people to know that they matter to us and weddings matter to the Church.
"We like to celebrate and there is nothing better than celebrating love."
Mrs Rennie said the Church was almost doing itself a disservice by not attending wedding fairs.
"We expect people just to come to us but the reality is that is not Christian faith," she explained.
"It is about going to where the public is and a recognition there are people already going to wedding fairs who offer a different understanding of marriage.
"So if we want to put our understanding of marriage out there, then we have to be at fairs explaining that.
"Jesus did not hide in the synagogue, he was out there talking to people and for me that is what it is all about at the deepest level."
Mrs Rennie added that King Malcolm of Canmore married Queen Margaret close to the present day Abbey in 1070.
"Dunfermline Abbey is a beautiful place and people have been married there for nearly 1,000 years," she conclued.
"On that sacred site you are putting your feet on history, which is quite a magical thing."